Having a Healthy Teen Pregnancy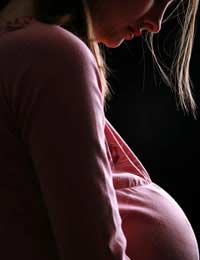 Having a healthy teen pregnancy is not impossible or even unlikely. All things being equal there is no reason that teen mothers can not have as healthy a pregnancy as any mother of any age. However, because teen pregnancies are largely unplanned there can be some unanticipated complications. The good news is that a health teen pregnancy lifestyle is easy to achieve, so mother and baby can both grow and flourish at this time.
Unanticipated Complications of Teen Pregnancy
Teen pregnancies are not usually planned, so there can be some complications related to the fact that teens are not aware that they are pregnant.
A delay in finding out that they are pregnant may mean that teens do not get care for themselves and their babies right away. Even if teens do know that they are pregnant care may be delayed because the mother is fearful of admitting the pregnancy or is attempting to outright deny the pregnancy. This may also mean that the teen is not eating well enough to sustain both her own growth and the baby's growth, that the teen is eating foods that should not be consumed during pregnancy or that the teen continues to smoke, drink alcohol or even take drugs while pregnant. Such choices could lead to a premature birth, low birth weight for the baby, a baby suffering from Foetal Alcohol Syndrome, a baby born addicted to drugs and much more. To combat these possibilities, teens who have had unprotected sex or otherwise believe that they may be pregnant must face up to the reality as soon as possible. Their health and the health of their baby depends upon it.
Healthy Teen Pregnancy Lifestyle
But teen pregnancies do not have to be negative. Having a healthy teen pregnancy means ensuring proper antenatal care for both mother and child, choosing a fresh diet rich in vitamins and nutrients, taking gentle exercise and cutting out alcohol, tobacco and drugs. Proper antenatal care will mean working with a midwife. Throughout this time mothers will be tested for blood pressure, weight, swelling and urine. Scans and check-ups will be conducted to watch the baby's progress as well. This is also the time that pregnant women can discuss their pregnancies, plans for the baby and any questions or concerns that they might have. Midwives need to have the most complete picture of the mother's health and pregnancy possible, so it is important to be honest during these discussions. It is also important that mothers follow all instructions that midwives given them, whether it is to take special vitamins, get more exercise or even get more rest or be on total bed rest. The medical professionals who look after teen pregnancies are experienced at what they do, and they know how best to help pregnant women and their babies.
Having a healthy teen pregnancy may be the last thing on a teen's mind when she finds out that she is pregnant, but it is crucial if her baby is to be given the best health and care possible. Confirming the pregnancy and registering for ante-natal care as quickly as possible to avoid any unanticipated complications is a great way to start a healthy teen pregnancy.
You might also like...
Hi there, My occupation has lead me to deal with multiple teenage pregnancies and I can tell you one thing: It's not easy. My first experience was with a 15 year old girl, she came to me asking what to do and how she couldn't cope with an infant as she was merely one herself. I asked about her situation and her family-- the boyfriend didn't know and soon after left her claiming her she was entirely at fault. But it takes two to tango. Her parents were uneasy with the situation and believed her to be more responsible. In these situations you need to think: if you're mature enough to have sex then you're ready for the consequences. She left planning to keep the baby and a few years ago I saw her again. She had a beautiful boy bumbling along a pram with a new-born. She was excited to see me again and revealed that the child was called Si!! If you feel you're not ready for a child don't run the risk of having sex. If you do the consequences are something quite beautiful when you learn to love and cherish them. Best wishes, Si x
A - Your Question:
Me and my boyfriend tried having sex but he didn't go fully in and I didn't have my hymen broken, we didn't wear protection and now I've missed 3 days of my period and it still hasn't come. I'm worrying that I'm pregnant and I don't know what to do.
---
Our Response:
You did not say whether your boyfriend ejaculated inside you or not. Sometimes a hymen can be broken in childhood without the person knowing. If your boyfriend ejaculated inside you, there is a possibility you could be pregnant even though he did not insert his penis fully. If he did not ejaculate inside you, there will be less chance you are pregnant. You can see more about doing a pregnancy test via the NHS link
here
.
TeenIssues
- 6-Jul-17 @ 12:00 PM
Me and my boyfriend tried having sex but he didn't go fully in and I didn't have my hymen broken, we didn't wear protection and now I've missed 3 days of my period and it still hasn't come. I'm worrying that I'm pregnant and I don't know what to do.
Why does someone choose to keep the baby ?
Babe
- 26-Apr-16 @ 8:29 AM