Arguing With Parents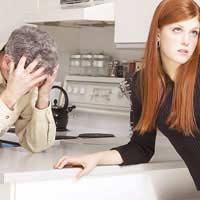 Arguing with your parents is totally natural for teens. From your hairstyle to your friends your marks at school to your television habits, your future plans to your curfew, it might just seem like you argue with your parents about everything. While this is not generally a pleasant state of affairs, it is normal and it will most likely pass. In the meantime, remember to argue fairly, argue respectfully and argue only when needed. It might be hard to stay in control while arguing with parents, but it will certainly keep your relationship stronger than it would be otherwise.
Argue Fairly
Arguments between teens and parents generally come about when both parties believe that they know what is best for the teen. Parents have been caring for their teens for over a decade, but teens are quickly becoming adults and believe that they are able to take care of themselves. If you are a teen arguing with your parents, remember that your parents love you and only want what is best for you. If you must argue with them, argue fairly by:
Allowing each person involved in the argument to speak their mind.
Refusing to interrupt others when they are speaking.

Refusing to draw others in solely for support if they do not have a place in the argument.
Sticking only to the topic at hand. Bringing up past hurts or issues will not help anyone move forward.
Suggesting compromises that will show your parents that you have thought about the issue and are trying to sort things for yourself.
Argue Respectfully
No matter how heated things may get during an argument, try to remember that your parents still deserve your attention, respect and love. This may be hard when you're facing a month full of Friday nights stuck at home or a week's worth of laundry that you don't think you should have to do, but in the end you'll be glad that you always gave your parents the respect they deserve. During arguments, be respectful by:
Keeping your voice lowered at all times and refusing to shout.
Sitting still and staying calm.
Refusing to engage in angry actions such as ripping, kicking, throwing or hitting anything.
Rationally explaining the reasons for your opinions and making a case for your side of the story.
Staying until a solution has been worked out. Stalking away and slamming doors doesn't help make any point other than that you are immature.
Argue Only When Needed
There is a thin line between having a discussion and engaging in an argument, but smart teens know that keeping their interactions with their parents at the discussion level practically guarantees that they will be taken more seriously. No one likes to argue, and the parents of teens can be especially weary of it, so keeping things on a serious and even keel will work to everyone's advantage. Reserve your arguments for issues that you feel passionately about, and even then only descend into an argument if you see no other way to get your point across to your parents.
Arguing with parents is practically a hallmark of the teenaged years, but out of control arguments don't serve anyone well. Teens who can remain calm, speak rationally and defend their points are the teens who will best preserve their relationships with their parents. Before arguing with your parents, decide what type of teen you want to be and what compromises you are willing to make in order to achieve your goals. You never know, you might just avoid an argument all together.
You might also like...
What if your mum takes away your social life and you have to pay to get it back? Life without mates çan tear you appàrt.
Kates
- 5-Aug-14 @ 1:19 PM
What if you are speaking respectfully and you do ask for opinions but your mum calls you argumentative and disrespectful? What if you use atone she has taught you is respectful and she still says you're disrespectful? When I ask my mum questions about stuff she usually refuses to answer because it's "Disrespectful" for me to ask her about why she insists on a particular rule or why she makes me do the work around the house instead of my siblings. Is she being disrespectful by not answering? Or is she right and I'm being disrespectful for asking?
IcePrince
- 5-Jun-14 @ 9:22 PM
Jakeass, you should just ask her if you want anything doing round the house, if no then go on your xbox. Once and a while go out tho. The weather is crappy too where I live but I always go out on the skateboard too!
Loz
- 11-Nov-12 @ 11:52 AM
What do you do when your mum is on your back casue I like to play the xbox cause the weather is always crappy (raining cold etc) and I dont really have many people I like in the area cause my friends live somewere else
jakeass
- 8-Nov-12 @ 9:36 AM
Parents and teens are always going to argue, it's the way of the world, and those arguments will get out of hand at times. When that happens all the good intentions and rules go out of the window. The trick is in making up afterwards. You have to be prepared to say you're sorry when it's over and take a more reasoned approach - after all, you're the adult, so you should take the lead, and you're the parent. You also have to listen, not just to what your teen is saying, but also what they mean.
Prissy
- 6-Jun-12 @ 11:59 AM
what to you do when your mum is ALWAYS moaning at you for not doing enough around the house, when you do more than what your brothers do?!
AshBieber
- 27-Mar-11 @ 2:03 PM