Rectifying Relationship Problems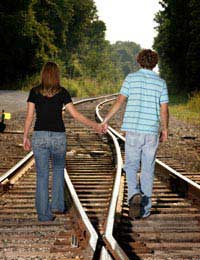 Every relationship brings together at least two sets of opinions, morals, values and beliefs. If family and friends get involved, this number only multiplies. With so many different points of view represented it is no wonder that sometimes attitudes clash and a rocky road results. If you've found your relationship floundering in uncertain seas, follow these tips for rectifying relationship problems.
Grab Some Time Alone
It's important not to lose yourself in a relationship, but it's also important not to lose your relationship in the wider world. If you find that your relationship has come under strain, take some time for yourself to figure out what you think is going wrong and how you think you could set it right. When you're ready, schedule some time alone with your girlfriend or boyfriend to make sure you have the peace and quiet to give your relationship the attention it deserves.
Communicate Clearly and Consistently
When it does come time to confront your girlfriend or boyfriend with your thoughts, make sure you do so clearly. Expressing yourself simply, honestly and in a calm, controlled manner will help you get your point across but keep you both from crossing the line into a screaming fight. Communicating consistently will help you both head off issues before they blow up, but also find solutions to those that do sneak in.
Fight Fairly and Squarely
If the worst does happen and you can't restrain yourselves from roaring at each other, remember that nothing is ever achieved by fighting dirty. Bringing up past incidences which are supposedly forgiven and forgotten will only get you mired in the past. Instead, stick to the topic at hand, speak your own mind and know exactly what you are - and are not - willing to accept.
Know Your Deal Breaker
Everyone has a "deal breaker," the one thing on which they simply can not compromise in a relationship. For some people it may be the way that they are spoken to, for others it may be that they won't tolerate a cheating mate. If you know your deal breaker, chances are good that you will be able to know when the time is right for you to stay and fight, and when it is time to throw in the towel and go.
Respect Yourself
Unfortunately, not all relationship problems can be fixed and it takes great maturity to accept that some relationships are not meant to be. If you have begun to feel anxious about your relationship, get out immediately if:
Your girlfriend or boyfriend abuses alcohol or drugs, and wants you to do the same.
Your girlfriend or boyfriend is emotionally, verbally or physically abusive - to you or others.
Your girlfriend or boyfriend pressures you to participate in sexual activities with which you are uncomfortable.
You find that you are afraid of your girlfriend or boyfriend.
You feel as if you are losing yourself.
Your family and friends are worried about your relationship, and you secretly agree.
All relationships go through tough times, and with honesty and respect most of these obstacles can be overcome. Rectifying relationship problems isn't easy, but it is entirely possible if you are both willing to work. If, on the other hand, you find yourself in a relationship that is harmful, there is no shame in ending it immediately.
Trust your instincts when it comes to saving or stopping a relationship and chances are that you will make the right decision. Good luck!
You might also like...
Hallo sir eami ladhu naku konchame madda anai dhi left side ki anaga cross ga vangi undhi dhani eamana repair chaiyagalara straight ga ravadani ki plz help me sir
gova
- 25-Sep-12 @ 6:56 PM