ADHD - Attention Deficit Hyperactivity Disorder - How To Diagnose And Treat It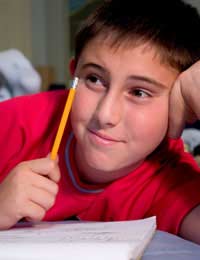 Everyone can get distracted now and again - particularly when a crush walks by, a big game is on or it sounds like a party is starting up next door - but for some people distractions make life miserable. Energetic and restless, these people find themselves unable to concentrate on work or school, and often unable to even hold a conversation and socialise with others. Though they recognise that their inability to focus is getting in the way of their lives, they just can't apply themselves to one thing at a time. If this sounds like you or someone you know, consider investigating Attention Deficit Hyperactivity Disorder (ADHD).
What Is ADHD?
ADHD is a term given to a variety of behaviours that are associated with a limited attention span. Fidgeting, restlessness, hyperactivity, distraction, impulsiveness and general inattentiveness or inability to focus are all behaviours linked to ADHD. Many teens suffering from ADHD will:
Pay little attention to details or directions.
Give up on activities midway through.
Be disorganised and forgetful.
Never seem to follow a full conversation.
Fidget, pace or be constantly moving.
Interrupt others or yell out answers in class.
Jump into conversations in which they are not included.
Talk loudly, frequently and without waiting for others to reply.
How is ADHD Diagnosed?
ADHD can only be diagnosed after a medical professional such as a GP or psychiatrist investigates a teen's behaviours. There is no actual test for ADHD, so instead a diagnosis will be based on:
The behaviours exhibited.
The history and any patterns of the behaviours exhibited.
Medical and family history.
Psychiatric and family history.
School reports and educational history.
Environment.
How is ADHD Treated?
ADHD treatment often incorporates both medication to treat symptoms and behaviour modification or management to relieve the underlying condition. The most commonly prescribed ADHD treatment is a medication for ADHD, Ritalin, which acts to reduce hyperactivity and increase focus. This is usually prescribed in conjunction with behavioural management techniques such as:
Creating a clear and consistent daily routine.
Avoiding stimulating and distracting items such as telephones, mp3 players, televisions and video games.
Becoming involved in structured groups like clubs or sports teams.
Taking on tuitions to pay extra attention to what is taught in classes.
Asking friends and family to help keep you focused and on task.
ADHD can be a frustrating condition if not correctly diagnosed, and ADHD treatment takes time. If you suspect that you or another teen you know may be suffering from ADHD, take the first steps towards a diagnosis and ADHD treatment immediately. Good luck!
You might also like...
I have ADHD and i can't read a book because i can't concentrate me and i get much eazy disturb.
klaeskrogh
- 29-Jan-19 @ 7:49 AM