Homework and Revision Help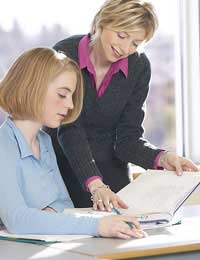 Realising that you need homework and revision help in order to boost your marks is a big step toward academic success but actually asking for this help is a giant step. Many students shy away from asking for help because they are embarrassed to let others know that they are struggling. Others don't want to appear too concerned about their marks, and still others just don't know where to start. If any of these apply to you, banish these thoughts from your mind. Asking for homework and revision help is the most mature thing you can do once you identify your weaknesses, and anyone who says otherwise isn't worth listening to.
Find a Tutor
One of the best ways to get homework and revision help is to find a tutor. A tutor is someone who will work one-on-one with you on either all of your course subjects or just the topics that you are having trouble with. Tutors can be fellow students, college students making a little extra money, teachers taking on extra work or other professional adults willing to share their knowledge.
Before advertising for a tutor, work out the subjects with which you need help, the schedule you would prefer, and how much you would be able to pay a tutor. If it turns out that you have no extra money don't worry, become creative and think about the skills or activities you would be willing to barter (babysitting, tutoring in another subject that you understand, helping someone in the play learn their lines, etc.). When you have all of these details sorted, go ahead and advertise. Many students find a tutor by:
Asking their teachers if they know of anyone who might be interested.
Checking in with support departments at school.
Posting ads on school, community and even local university notice boards.
Leaving advertisements at local book shops and coffee shops.
Posting on Internet notice boards devoted to the particular subject.
Putting up fliers at their local library.
Organise a Study Group
If the thought of being tutored alone makes you uncomfortable, then another option is a study group. Studying with a variety of others lets you work through problems, view different perspectives and hear alternative arguments that may make it easier for you to understand a given concept. Unfortunately the down side of a study group is that it is easy to get off the topic with so many others around. Avoid this scenario by carefully selecting your group, and setting up a few guidelines for each meeting.
Carefully select your group. Consider those who:

Do well in class.
Have a passion for the subject.
Volunteer during classes and labs.
Often take notes or highlight text during discussions.

Set up a few guidelines for each meeting. Decide as a group:

When and where the next meeting will take place.
Which topics will be covered during the meeting.
Who will be in charge of keeping the group focused.
Materials (books, notes, etc.) each group member should bring.
How group members can get in touch with each other after the meeting.
Asking for homework and revision help is one of the best ways students can commit to understanding any subject. If you are struggling with a topic, consider finding a tutor or organising a study group. Not only will you make new friends, come to terms with the subject and probably get better marks, but you'll prove your maturity and sincerity to everyone around you. As a student, there are few more important things you can do than ask for homework and revision help when needed.
You might also like...
I like it because it will give me a good guidance .
praveen
- 26-May-12 @ 12:41 PM