Education: New Diplomas For 14 - 19 Year Olds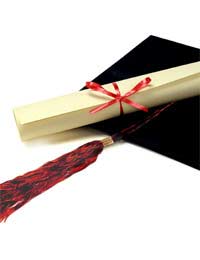 A Diploma is a new qualification that will be offered in 10 subjects in September, 2009 and in 17 subjects by 2011. But these exciting new qualifications come with some confusion about what they are and what they mean for students. To help you figure out more about these qualifications we have put together some basic answers to frequently asked questions about the new Diplomas for 14 to 19 year olds.
What is a Diploma?
A Diploma is a new educational qualification that is usually a two year commitment and incorporates both classroom learning and practical experience. The classroom learning might happen at your own school and/or another school, and the practical aspects might include a project and/or work experience. This emphasis on practical skills, including "soft skills" such as teamwork and leadership, allows students to see direct relationships between what they learn and how it can be applied to real life situations.
How Do Diplomas Work?
Students who choose to study for a Diploma will generally spend two days per week studying for Diplomas in Years 10 and 11, with the other days spent on GCSE and core national curriculum subjects. In Year 12 and beyond students then switch to spending most of their school time on Diplomas. Diplomas are offered at three levels, Foundation, Higher and Advanced. Students who are employed full-time or have other commitments may also take a Diploma part-time.
Which Diploma Subjects Are Available?
Diplomas in Construction and the Built Environment, Creative and Media, Engineering, Information Technology and Society and Health and Development are now available. Diplomas in Environmental and Land-Based Studies, Business, Administration and Finance, Manufacturing and Product Design, Hospitality and Hair and Beauty Studies will be available from September, 2009.
Which Diploma Subjects Will Be Introduced By 2011?
In addition to the subjects listed above, Diplomas in Travel and Tourism, Public Services, Sport and Active Leisure, Retail Business, Science and Language and Humanities will be available by 2011.
What Can I Do After a Diploma?
Upon earning a Diploma you have the opportunity to either continue your studies, study at third level or enter paid employment. You might choose to study for another Diploma, a Diploma at a higher level, for GCSEs or for A Levels. A Diploma might also lead you to study at university and earn a degree. Alternatively, you might choose to take your Diploma and enter an Apprenticeship or a job. With a Diploma's emphasis on both education and practical skills it prepares you for almost anything you'd like to do after completion.
Why Should I Do a Diploma?
Diplomas are a great opportunity to both learn more about a particular subject or industry as well as gain real life experience in that subject or industry. Diplomas will also allow you to learn both inside a classroom and in a real community and to work on real projects. As you will have contact with teachers, college lecturers, businesspeople and potential employers, a Diploma course will also allow you to build up a number of contacts in a given area, round out your CV and build up a portfolio all while earning a recognised qualification.
Where Can I Find Out More About Diplomas?
If you are interested in Diplomas, talk with a teacher or a Careers Advisor, or ring a Connexions Direct Personal Advisor on 080 800 13 2 19 and they will call you back to answer your questions and discuss your options.
You might also like...