Picking A-Level Subjects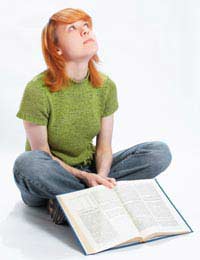 Advanced Level (A-level) subjects can be frightening. Their very name suggests a challenge, and knowing that universities will be looking at the results can often have students shaking in their books. In reality, an A-level is simply a General Certificate of Education (GCE) qualification that proves you have studied, and learned, a subject to an advanced level during secondary school. Obviously this will require hard work and dedication, but if you start out by picking the right A-level subjects you will be ahead of the game. To pick A-level subjects that will motivate you, understand the system, know your own mind and devise an educational plan to the future of your dreams.
Understand the System
The A-levels can seem quite confusing if you have little experience with them. Generally students study advanced level subjects for two years and subjects may be examined at either Advanced Subsidiary (AS) or A2 level. Generally AS exams are taken during Year 12 (Year 13 in Northern Ireland) and A2s are taken during Year 13 (Year 14 in Northern Ireland). Passing the AS and A2 exam in any given subject will result in an A-level being awarded. Most students study four subjects at the AS level, but many choose to drop down to three at the A2 level. Students may stop their study after the AS exam, but the resulting award will only count for half as much in the UCAS point which is used to determine which students will be accepted at which colleges and universities.
Know Your Own Mind
Once you understand the system, it becomes obvious that the subjects you will want to study at the advanced level, particularly the A2 level, will be the subjects in which you have experience, in which you are interested, and which you hope to study at a higher level at college or university. Hopefully your GCSE results will make it clear to you what these subjects should be, but if they do not then it is time to make an appointment with your school counsellor. A-levels should not be taken on a whim, and some experience with the subject is recommended before commencing your studies.
Devise an Educational Plan
A-levels indicate to colleges and universities where your interests lie, so before you settle on your subjects make sure you know where they will take you. Spend some time narrowing down the type of career you hope to have, and the higher education courses you will need to pass in order to achieve it. Research whether these courses require any particular A-level qualifications or if any qualifications are recommended. Contacting universities, professionals in your future field, past pupils, current counsellors and teachers are all great ways to find out more about making your dreams a reality, and how to start with the A-levels.
Unfortunately the horror stories about sweating through the A-levels probably do contain a few grains of truth. A-levels are advanced studies for which not every student is suited. If you are going to take A-levels, select your subjects carefully and with your strengths, interests and future plans in mind. Good luck!
You might also like...