Choosing a College or University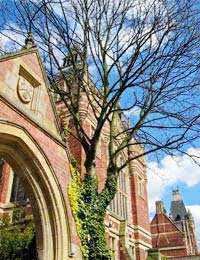 Choosing which college or university to attend is a big decision, and should be based on many factors. The subject you wish to study, extracurricular activities that interest you, fees and associated costs, and the location of the institution are but a few of the items that should be investigated before reaching your final conclusion. It can be easy to fall for stereotypes or make decisions based on reputations when you are selecting a college or university, but you owe it to yourself to find out all that you can about your options and make this tough decision yourself. Your future happiness depends upon it!
Your Preferred Course of Study
Selecting the subject(s) you wish to study at college or university shouldn't be too shocking, particularly after selecting your GCSE and A-level subjects. By this point in your academic career you should have some idea of the subjects you enjoy, and the subjects for which you have a talent. Look at which subjects fulfil both of these categories and you will be well on your way to deciding what to study at a higher level. Discuss your ideas with your teachers, school guidance counsellors and parents, and when you have a preferred course of study in mind begin researching colleges or universities that offer similar programmes.
Extracurricular Activities
Contrary to what your parents might insist, every waking moment of your college or university days will not be taken up with studying. Make sure that you select a college or university that fits your interests by investigating their extracurricular activities. Do they offer an orchestra or choir for the music lover? Will an athlete have plenty of teams to cheer on and a well-stocked gym to enjoy? Are there plenty of student productions for the budding thespian? Make sure you can find at least one extracurricular activity that you are interested in at every college or university that remains on your list.
Fees and Associated Costs
Unfortunately the days of paying for college or university based on a part time job are long gone. Today fees pop up everywhere, from technology fees to laboratory fees to enrolment fees and even application fees, money is required every which way you turn. Tack on associated costs such as paying for food and rent, books and clothes, social events and travel, and the cost of going to a college or university soon adds up. Make sure you look into all of the costs you will be expected to pay before deciding on any particular college or university.
Location, Location, Location
Some teens dream of getting far away from their small towns and reinventing themselves in the big city. Other teens prefer to stay close to the comforts of home. No matter where you dream of attending college or university, make sure that you feel safe and comfortable wherever the campus happens to lie. Take a day tour or even an overnight visit so that you can get a feel for the area both in daylight and at night, and make sure to pay attention to your gut reactions.
Choosing a college or university will probably be one of the most important decisions of your life. Your future friendships, career prospects and even romantic relationships will depend, at least in part, on which higher level educational institution you attend, and all of these will play a large part in your future happiness. However, don't let the enormity of this decision put you off because more likely than not wherever you end up will indeed be the right place for you. Good luck!
You might also like...