Apprenticeships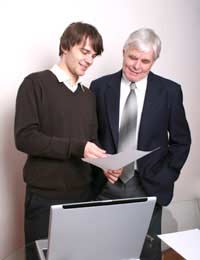 An apprenticeship might sound like a hold over from the Middle Ages, but forget about the quaint name because these training programmes offer a host of benefits for those willing to work. Normally open to young adults between the ages of 16 and 24, an apprenticeship might just be the answer to your prayers if you know what you want to do and where you want to go, and you want to get started immediately. If you're keen to get a jump on the future, investigate an apprenticeship today.
The ABCs of Apprenticeships
Apprenticeships are training programmes that allow a young adult to gain real work experience, study for a qualification and get paid all at the same time! Most apprenticeships will only take on people who are not in full time education, so they are great options for school leavers who are not planning on attending college or university. Apprenticeships span a variety of industries, and often include placements in beauty, health care, administration, construction, manufacturing, agriculture, transportation, administration and more.
An Average Day as an Apprentice
Unfortunately, or maybe fortunately, there is no such thing as an average day for an apprentice. Each employer offering apprenticeships will offer a unique programme, so it can be hard to compare daily activities. Some days you may be working in the field, some days you may attend classes at a local college and other days you may be involved in taking tests, studying with others, or working through practical exams. Your daily regime during your apprenticeship should be something that you work out with your employer and are clear of before you start working with them.
Applying for an Apprenticeship
If you are certain of your wish to work in a specific industry and are willing to commit to several years of training and study, then apply for an apprenticeship soon because spaces get filled quickly. Once you have an idea of the kind of employers you desire an apprenticeship with, check out their websites for further information and write to them directly. Local recruitment agencies may also offer details about apprenticeships near you. For even more information, consider contacting the National Apprenticeships Helpline at 08000 150 600. Remember, applying for an apprenticeship is much the same as applying for employment so you will want to make a professional impression from your first point of contact.
Succeeding at an Apprenticeship
Succeeding at an apprenticeship takes many years of maturity, dedication and hard work. It all pays off in the end though, when you obtain practical work experience, excellent references, a National Vocational Qualification and whatever technical certificates for which you choose to study. These experiences will add up to a stellar resume, and undoubtedly help you land an excellent job and start a successful career. Many apprentices find work immediately following their apprenticeships, some even with the same company and since your qualifications will be nationally and internationally recognised you can follow your dreams wherever they take you.
If you decide an Apprenticeship is for you contact your local council, visit the governments help and advice website.
You might also like...