Starting Your Apprenticeship After Education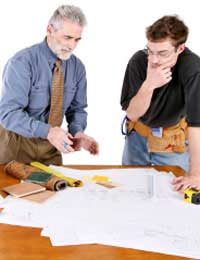 Many young people choose to forego further education in favour of the opportunity to work and study at the same time through an apprenticeship. For the most part an apprentice can not be in full time education in order to participate in such a programme, though an apprenticeship allows them to gain work experience, study for a technical qualification and earn money at the same time. Today apprenticeships are available in a variety of industries including beauty, health care, administration, construction, manufacturing, agriculture, transportation, administration and more.
Applying for an Apprenticeship
Apprenticeships are usually carried out under the supervision of an employer, so if you are interested in apprenticing for a particular employer then you'll want to contact them directly as early as possible. Your school guidance department will likely also have information on applying for apprenticeships in your area. Some local recruitment agencies may also carry information about open apprenticeships, and the National Apprenticeships Helpline (08000 150 600) will also be able to offer more information on open apprenticeships and how to apply for them. Many apprenticeships do not have academic prerequisites, though some technical apprenticeships may require specific education qualifications such as GCSE grades in maths and/or science. As apprenticeships are a gateway to a specific industry, you should apply for an apprenticeship with the same professionalism and maturity you would a full time job.
On the Job Education
One of the most attractive facets of apprenticeships is that they offer on the job education. While there is often some classroom learning involved in apprenticeships, there is usually just as much, if not more, time to translate these lessons into on the job education as well. The ability to get out into the field and use practical skills is often what sways many young people towards apprenticeships after education. However, it is not fair to say that education ends when an apprenticeship begins because the underlying concept of all apprenticeships is that young people need training and guidance in their chosen field, and experienced members of the field have designed programmes to fulfil these needs.
Training for a Career
In addition to learning job skills, apprenticeships allow young people paid career training. There is no reason that apprentices need to undertake volunteer activities or unpaid internships in order to train for their intended career as a full time apprenticeship programme is designed to offer all of the training a young person might need. In fact, many apprenticeships lead to a recognised technical qualification such as a National Vocational Qualification, a Technical Certificate or Key Skills qualification.
Often the idea of an apprenticeship is misrepresented as a way to escape education or to avoid lesson learning in a classroom. In fact, an apprenticeship is a way to gain an education, qualification, experience and pay all at the same time. If you have plans to look into an apprenticeship, begin your search as soon as possible. Apprenticeships can fill quickly, particularly with employers or programmes that offer unparalleled training, so early application is essential.
You might also like...