Beauty Tips for Boys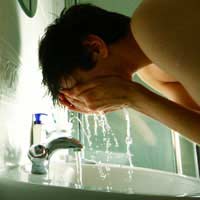 A lot of boys are bashful when it comes to beauty, often because they'd prefer to be rugged, masculine or handsome, anything but beautiful!
Thankfully with a wealth of new men's health and personal care products on the market looking your very best is easier than ever before. Take care of yourself properly and - cliché though it may be - your natural beauty will be shining through in no time!
Looking After Your Skin
The teenage years are a traumatic time for your skin. Hormonal changes, excess oil production, sweat and air and water pollution all contribute to spots. A lot of times these breakouts aren't restricted to your face, but can even pop up on your shoulders, back and bum! Fight back by using face and body wash, and investigate the wide range of male skincare products in your local chemist's shop. Be sure to pick up:
A good all over cleanser, such as soap or body wash.
Moisturizer for dry skin.
Facial exfoliator (grainy scrub) to help remove dead skin cells, which you should use a few times per week.
Face wash for your skin type: dry/sensitive, normal, oily or combination.
Toner to improve your skin tone and tighten pores.
Facial moisturizer to leave your face feeling silky smooth.
A rich shaving gel to help your razor glide over your skin.
A razor with an aloe and/or vitamin strip to discourage nasty razor burn.
The contact information of a recommended dermatologist if you feel that your skin needs professional attention.
Looking After Your Teeth
Good oral hygiene is sometimes a forgotten beauty secret, but nothing could be less attractive than dirty, stained teeth, puffy gums and bad breath. Make sure that you rise above this disgusting state by:
Finding a toothbrush shaped to fit your mouth.
Toothpaste in a flavour you like.
Antiseptic and anti-plaque mouthwash.
Dental floss to pass between your teeth and dislodge debris.
Using all three of these products in combination after every meal.
Visiting your dentist for regular check-ups and cleaning.
Looking After Your Hair
Almost as nasty as poor oral hygiene is lank, greasy hair. Visit a barber or hairstyle to ask for the right haircut for your face shape, not what is simply trendy or cheap. When you get home, keep this hair heaven with:
A shampoo for your hair type - thin, thick, coloured, dry, oily or normal.
Daily shampooing to clean your hair.
Conditioner to leave your hair shiny, healthy and smooth.
A comb to help navigate your tangles.
Gel or another styling product to help hold your preferred style.
Looking After the Rest
There's so much more to looking fantastic, but so little time! Carve out a few extra minutes to:
Apply deodorant and/or antiperspirant liberally each morning.
Pluck any stray hairs between your eyebrows.
Trim any nose or ear hairs that you can see.
Use sunscreen every day, even if it is cloudy or rainy outside.
Buy a small lip balm to treat chapped lips.
Splurge on cologne for an extra boost.
Looking good shouldn't be hard work. As soon as you get into a daily routine of looking after your skin, teeth and hair you should start to see results. But, even if you morph into a male model overnight, remember that beauty is only skin deep. Strive to look your best, be yourself and have fun!
You might also like...
all i want is a boyfreind
maddisen.carter
- 30-Oct-23 @ 1:58 PM
extremely helpful
chelsea123
- 19-Oct-23 @ 5:10 PM
Great,I hope I'll improve my knowledge of boys beauty tips.
Se Thu
- 7-Sep-19 @ 12:04 PM
What to do for face whitening? I mean I am a dark colored person. And. Hair is also very broken while I do shampoo wash it..
Anas
- 20-Aug-19 @ 10:14 AM
@Pran - eat lots of fruit and drink lots of water. If you're healthy on the inside then you'll look great on the out.
I want fair and glowing skin which glazelike a clear so plz suggested me some tips which was really proven
Pran
- 6-Jul-18 @ 6:02 PM
@vaibhav - all people are different. Some people think we shouldn't as we will dehydrate our skin. Some people prefer to feel clean every day.
MuMM
- 8-Mar-18 @ 3:17 PM
should we use shampoo and conditioner every day my parents say its bad to have too much chemical and if we cant use itis it right to wash hair with soap reply me fst
vaibhav
- 6-Mar-18 @ 4:46 PM
I actually do more of them and i learned me new many things and i like att have a good hygiens and your site is very usfull . I liked.
Mohsen Karimi
- 18-Nov-17 @ 5:01 PM
Sri sri - Your Question:
I have more than more pimples are in my face how to remove them pls help me my face becomes pain when breaked pimples pls help me I will remeber you life long
---
Our Response:
I am sorry to hear you are suffering in this way. You will really need to visit your GP and if your face is bad your doctor will be able to prescribe you a cream or tablets that should help clear your skin up.
TeenIssues
- 31-May-16 @ 11:04 AM
I havemore than more pimples are in my face how to remove them pls help me my face becomes pain when breaked pimplespls help me i will remeber you life long
Sri sri
- 30-May-16 @ 11:34 AM
kiko - Your Question:
I has many acne in my face and it all leave a mark. I tried cleanser but nothing change they keep coming. I tried toner but my facevfeel burning so I stop. I really tried everything but nothing chang :(
---
Our Response:
If you visit your GP, there are creams and/or tablets that you can be prescribed in order to reduce your acne.
TeenIssues
- 10-May-16 @ 2:37 PM
I has many acne in my face and it all leave a mark . I tried cleanser but nothing change they keep coming . I tried toner but my facevfeel burning so I stop . I really tried everything but nothing chang :(
kiko
- 10-May-16 @ 4:43 AM
my face is very black and dullness pimples r also so pls how to removee myblackness plsss help me
swamy
- 7-Apr-16 @ 8:46 AM
I WANT WHITISH SKIN IN 20 DOYS DUE TO SISTERS MARRIAGE SO HOW TO GET I NEED SOME TIPS
lohi
- 5-Mar-16 @ 8:09 AM
awasome this tips really works..._
dude
- 26-Nov-11 @ 12:22 PM