Teenage Consumers - Know Your Rights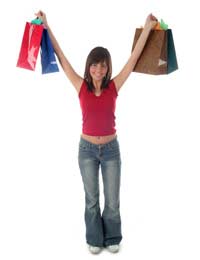 Consumer rights are protected by laws that govern the purchase of goods and services from shops and companies. These rights do not depend on the consumer's age, and protect all consumers in the UK. To make sure that you get a fair deal the next time you part with your hard earned cash, make sure you know your consumer rights and responsibilities.
Legal Jargon
It is hard to discuss consumer rights without wading into a bit of legal jargon. Terms you may come across while studying this subject include:
Consumer - the person purchasing (buying) a good or service.
Goods - the items being purchased (bought).
Faulty goods - items that did not meet a satisfactory standard when purchased.
Services - the service that is being purchased, for example plumbing services or house painting services.
Trader - the person selling the goods or services.
Consumer Rights
There are literally hundreds of rules governing the purchase of goods and services in the UK, but they are all built upon several underlying laws. When you purchase goods or services, you (as the consumer) have the rights to:
Goods that are of a satisfactory quality (that last an accepted amount of time and are not defective).
Goods that are "as described" by the trader (that they are honestly described in advertisements).
Goods that are of fit purpose (they do what they are intended to do).
Goods that are safe.
Consumer Responsibilities
Just as you, the consumer, are entitled to protection from scams and faulty goods, you also have several responsibilities you must uphold during your transactions. For example, you can not claim that you were unfairly treated if:
You were warned of faulty goods but bought them anyway.
You want an exchange or your money back because you have changed your mind about goods or services.
The goods or services you purchased clearly had faults but you decided to buy "as is" anyway.
You damaged the goods or interfered with the services on your own.
You bought the wrong goods or services by mistake.
Today there are more ways than ever to buy goods and services. Shops, companies, the television, catalogues and websites all offer outlets for quick shopping. Unfortunately, not all transactions are clear cut and sometimes the consumer ends up with goods or services they find unsatisfactory. If you find yourself in such a situation, knowing your consumer rights and responsibilities is invaluable to making sure that you get the service you expect and deserve. Become a savvy shopper and don't settle for less!
You might also like...
It is very informative and it helped me with my assignment.
Gem
- 21-Jul-19 @ 3:42 PM