Stress Relief for Teens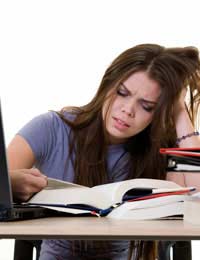 From school work to spots, dating to drugs, bullying to body issues, sometimes it seems like today's teens have more to feel stressed about than ever before.
But this stress doesn't have to pile up until it feels out of control. Instead, teens can acknowledge the stress in their lives for what it is and proactively decide to seek methods of relief.
Very often teens find stress relief after thinking a situation through, talking about their feelings and options, learning the ways in which they feel most comfortable and able to cope, and getting enough rest to be able to deal most efficiently with stress in the future.
Thinking It Through
One of the worst things about stress is that it makes every situation feel immediate. You have to decide right now if you want to engage in underage drinking. You must be able to put together an outfit for tomorrow night's date while making dinner and studying for exams.
You can't possibly put off planning your birthday party until next month - when your birthday actually occurs. It can be hard to stop and take a breath, but recognising that you can't do everything at once is often the first step to finding stress relief.
Allow yourself time to go somewhere private and think through what is bothering you. Make a list of what you need to address, and even schedule specific tasks into a diary. It can seem surprising that you may well have time for everything, or that you can prioritise activities and no longer worry about those that don't truly matter. The more adept you become at taking this time out the less surprising these results will be.
Talking It Out
When you've thought through a stressful situation you often come to realise that you have a few options in how to proceed. If you feel comfortable, find a friend, relative or trusted adult with which to share your views of what you can do. Very often bringing someone else into the mix means seeing the situation through a fresh pair of eyes, so you may end up discovering even more options or discovering unexpected strengths or flaws in your plan.
Also, when you are asked to explain your thoughts and feelings you may be surprised by what you actually say. This can be a fantastic opportunity for learning more about your own true preferences and comfort levels.
Learning to Cope
Coping with stress is an on-going process, but the more you address stress the more you learn your preferred methods of coping. Some teens turn to destructive behaviours to deal with stress, such as smoking, drinking, doing drugs and engaging in disordered eating.
Other teens turn to productive behaviours such as taking light exercise, improving their diet, consulting with adults and allowing their creativity to shine through in writing, painting, drawing, music and more. Recognising the productive behaviours that can help you work through stress, while at the same time avoiding destructive behaviours, should allow you to become more efficient at stress relief in the future.
Sleeping Through It All
It's true that situations seem intensely stressful when you are tired, so regardless of the situation it's always smart to remember that things may well look different in the morning. Set aside your worries for the next day and try to get some rest. Once you've slept you may well find that you can look more objectively at a situation, find new options for reconciling the situation, and feel more confident in your chosen path. Getting regular rest will also help you deal with stress as it arises so it is less likely that it will spiral out of control again.
Stress is often a constant in teen's lives, but there are ways for teens to deal with it and move past it. Thinking a situation through, talking about the situation and perceived options, learning the most comfortable ways to cope and getting enough rest are all methods by which teens can relieve their stress.
You might also like...