Being Bullied by a Teacher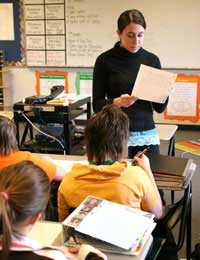 In a perfect world, all teachers would be interesting, fun, devoted to educating students and dedicated to encouraging them down their chosen paths. In reality, some teachers just enjoy the shortened hours, holidays and power that comes with their positions.
If you are under the supervision of this type of teacher and feel that his or her behaviour has crossed the line into bullying, there are things you can do to stop it. Discussing your concerns with the teacher in question and the head of his/her department, filing a formal complaint with your school and in the most extreme case, asking to be transferred to another class are just a few of your options.
Many students think that they will never be believed if they bring a complaint against a teacher, but don't let these unfounded fears stop you. Bullying by a teacher is unacceptable behaviour, and no student should be subjected to it.
What Is Teacher Bullying?
It's easy to get on a teacher's bad side, or for a teacher to get on your own, but this does not mean that the teacher is a bully. Bullying behaviour by a teacher includes behaviours such as:
Degrading comments about a student.
Unwanted or hostile physical contact with a student.
Unwanted or suggestive physical contact with a student.
Inappropriate or lewd remarks made to a student.
Suggesting to a student that his/her grade depends on something other than his/her studies.
What Is the First Step to Stopping Teacher Bullying?
If you feel that your teacher is a bully, the first step is to ask for a meeting between the two of you as well as your teacher's department head. You may want to confront your teacher alone, however it is always advisable to have a third party present. During this meeting, be prepared to state your concerns and give examples of your teacher's bullying behaviour. Having evidence, such as a diary of when the events occurred and the names of witnesses, will help your case. Consider asking a parent to attend this meeting with you so that you do not feel outnumbered or intimidated.
File a Formal Complaint
Meeting with a head of department - someone your teacher must report to- may be enough to stop his or her bullying behaviour. If it is not, the next step is to file a formal complaint with your school. Your school handbook may provide information on complaint procedures, but if it does not, ask for a meeting with a member of your school's administration such as a vice principal, principal or the equivalent. Continue keeping a record of your teacher's bullying behaviour throughout this time.
Ask for a Transfer
While it is not fair that you should disrupt your studies due to a teacher's bullying, if it gets no better after filing a formal complain this may be your last resort. But do not feel as though your teacher has "won" if you request a transfer, you may still wish to push forward with your complaints or even retain legal counsel at this time. If this is the case, then asking for a transfer is just another piece of evidence for your argument. Do not, however, ask for a transfer first thing without reporting your teacher's bullying. This will only serve to make you look fickle and might even discredit your case.
Teacher bullying is unacceptable and must not be tolerated. If you feel that you are being treated poorly, but are uncertain if you are being bullied by your teacher, confide in a trusted adult.
Remember, bullying often comes down to "he said, she said" so a clear record of incidences is the best evidence you can provide. Good luck!
You might also like...
For about two years I was shamed by a teacher for being 'too pale' to the point where I sometimes I couldn't come to school because I felt too self concious. She had other teachers talk to me about it too making me feel almost like an alien for my skin based genetics. I can't help but credit her for how my bdd worsened around that time.
Luna
- 27-Aug-17 @ 7:18 AM
My son was being by a year head, I have addressed it with the school, not that I am sure he is still behind the scence.It appears the headmaster has now picked up where he left off. My complaints have gone in addressed to the Governors of the school, who have never replied and I know they should be,
browneyes
- 10-Feb-13 @ 7:36 AM
my daughter is in primary school found out that her teacher is bullying her and talking down sarcastic way my daughter is only 8 her school work is not doing to well as the teacher being the way she is if i go to headmaster i dont think nothing will get done as ive complained about my daughter getting bullied a few times from students but they said she was lying as the other kids denied it so straight away my girl is lying dont know wot to do for the best .