Coping as a Teenage Parent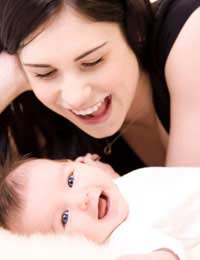 Coping as a teen parent can be difficult. The demands of a child combined with sorting out your own future can affect even the most energetic, enthusiastic parent. However, there is help out there for teen parents and keeping everything in perspective can help keep you from feeling entirely overwhelmed. Coming to terms with your situation, finding out about assistance, understanding your rights about education and employment and finding support from others can all help you cope as a teen parent.
Come to Terms with Your Situation
Many teen parents are surprised by their pregnancies, but just because you did not plan to have a child at this time does not mean that you are a bad person or that you will be a bad parent. It does, however, mean that you need to be prepared for changes in your life. Simply put, your life is no longer your own. You are now a parent, which means that you have to start thinking about the needs and desires of others in addition to your own. All of your decisions will now need to be made with the best interests of someone else in your mind. By coming to terms with your situation you'll be best prepared to begin thinking about your future.
Find Out About Assistance
All parents who are bringing up children are entitled to Child Benefit, but lone parents may also be entitled to further assistance. As most teen parents are unmarried, this means that most teen parents should investigate whether or not they are entitled to extra assistance. To begin with, the parent who is not bringing up the child is legally responsible for providing financial support for the child. The Child Support Agency (CSA) is responsible for determining how much financial support is due to the child and then collecting this amount from the parent. Jobseekers Allowance, Income Support and a Job Grant may also be benefits for which you qualify. For further information on assistance, visit your local Citizens Advice Bureau (www.citizensadvice.org.uk).
Understand Your Rights
Understanding your rights about education and employment will help you plan and prepare for your future. In short, you can not be excluded from school or prohibited from working because you are a teen parent. Contact your local authority for more information on your education as a teen parent. If you feel that you are being discriminated against in employment due to your status as a teen parent, contact a Citizens Advice Bureau or Community Legal Advice (www.clsdirect.org.uk) in order to find out more about your situation.
Find Support
Many teen parents feel that they are unsupported as they attempt to cope with caring for a child and the other demands of their lives, and most find great support from belonging to a group of other lone parents in a similar situation. If you think that you might like to meet with other people who understand what you are going through, contact your local authority to ask if such groups exist and keep your eyes open to community notice-boards and newspapers that might carry ads for such groups. Logging on to see if there are any websites devoted to teen or lone parent groups in your area is also a smart idea. If nothing else there are many sites devoted to teen parents regardless of their locations and you might find support and inspiration from them. Good luck!
You might also like...
My school did exclude me due to me being pregnant.
Kitty
- 11-May-16 @ 3:31 PM
@turkey - I'm sorry to hear this and he is very young. You don't say where you are from, but I think you will need to see a GP or find someone to talk to at your local health centre asap in order to make a decision about what you want to do.
TeenIssues
- 12-Mar-15 @ 11:49 AM
@turkey - You don't say where you are from, but I think you will need to see a GP or find someone to talk to at your local health centre asap in order to make a decision about what you want to do.
TeenIssues
- 12-Mar-15 @ 11:49 AM
I got pregnant from a immigrant at 15 im so scared hes 13 now and asking questions what should I do
turkey
- 10-Mar-15 @ 1:10 PM