Considerations When Joining a Local Community Club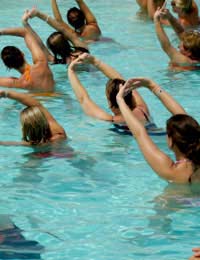 Most people would agree that teens today have more choices than ever before, but these options are often a double-edged sword. On one side all of these potential activities mean that teens should never be bored and always have something to do when they so desire, but on the other it means that teens can easily become over-scheduled, stressed out and so tired that they are unable to give any of their activities their best efforts. To avoid burn out teens should pick and choose carefully only those activities in which they are truly interested and for which they have the time. Joining a local community club is an easy way to get involved and have some fun without a lot of stress.
Libraries
Keep an open mind on this one, because libraries have evolved a lot over the past decade. Gone are the days of absolute silence and only "improving" books on the shelves. Today's libraries are chock full of magazines, music, DVDs, graphic novels, even games consoles, and young adult librarians are dedicated to setting up activities that teens will enjoy. Check in to see if a teen book club, film club or writing circle is available at your local library and if not think about suggesting one yourself.
Leisure Centres
Leisure centres can sometimes seem like the home of old age pensioners and tiny tots, but there's often a number of clubs available for teens as well. Swimming clubs, teen fitness clubs and classes and community sports clubs such as tennis, football and even gymnastics are often held at leisure centres. Again, if you are looking for something that you don't seen on the current schedule then suggesting it yourself to a member of staff might just help get it on the next one.
Community Centres
Community centres exist as a meeting place for clubs and classes within the local community. Dramatic societies, choral groups, dance clubs, gardening societies, martial arts clubs, card clubs and a variety of interest classes from basket weaving to yoga tend to take place in community centres. Though these activities are usually open to members of all ages, teens are generally warmly welcomed as long as they are interested in committing to the group and taking their role in the activities seriously.
Places of Worship
Many churches, temples, synagogues and mosques have specific clubs and groups associated with their community. But these religiously affiliated groups don't necessarily have religion as the main focus. For example, church groups aimed at teens usually seek to provide fun, safe activities that offer teens a chance to socialise on their own such as movie nights or day trips. If teen groups don't exist at your place of worship, consider drawing up a proposal for your plans.
Joining a local community club may seem scary to teens who are unsure of what is available, what the club will require of them and how much time and energy they will need to spend either seeking out a new club or becoming a member. If you are hoping to meet some new friends through a community club, check out your local library, leisure centre, community centre or place of worship - chances are that one of these sites will offer teen activities or be open to the idea.
You might also like...