No Cost Exercise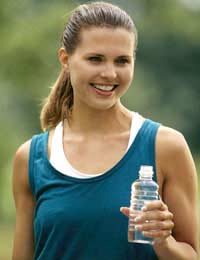 Many times people think the only way they can get fit is to buy expensive work out clothes and join a gym. While this route may work for some, it is hardly the only way to begin exercising. There are a myriad of no cost options for getting in shape, including walking and running, using the stairs, engaging in calisthenics, swimming, using exercise DVDs and taking advantage of your student status to get freebies. With so many activities to chose from there's no excuse not to get fit!
Walking and Running
Walking and running is perhaps the original no cost exercise option. Many people do invest in a walking or running shoe to make sure they have the proper support in their new endeavour, but this is a purchase you may want to put off until you are certain you enjoy the activity and will keep going with it. If you decide to walk or run, remember to:
Map out a safe route which will keep you away from excessive traffic.
Look for walking paths, hiking or running trails to provide you with safe options.
Avoid working out with loud music on, it can distract you from your surroundings.
Try to up your exercise time by about five minutes per week.
Try to walk or run for at least 30 minutes several times per week.
Incorporate a few hills into your walk or run if you are feeling ambitious.
Try to walk or run at a speed that leaves you a little out of breath, but still able to talk.
Enlist the aid of a walking or running buddy who will meet you and keep you motivated.
Look for easy ways to get in more steps, for example getting off the bus a stop or two early.
Using the Stairs
Another excellent exercise option which has no cost is to simply use the stairs more often. This may mean taking the stairs instead of the lift, or adding in some stair climbing to a current exercise routine. Running stairs can be a great cardiovascular workout, which means it gets your blood pumping and engages your lungs, so few people need o run stairs for very long to see results. Starting out with 2 minutes, then increasing to 5, then 10 then 15 minutes should provide your current workout with a great, free boost.
Calisthenics
Calisthenics are the type of rhythmic exercises you often performed in primary school. They focus on strength and/or flexibility, don't require much in the way of equipment and can be performed in your room, the back garden or even the park. A typical calisthenics workout might include:
Star jumps, usually enough to make you a little winded.
Push ups. Set a daily goal and increase it slightly every few days.
Lunges. Bring one leg forward and sink the back leg to almost kneeling. Hold.
Sit ups. Lie on your back with bent knees and use your abdominals to curl up.
Squats. Keep feet shoulder with apart and squat a low as possible. Hold.
Swimming
While swimming is almost never a no cost option in the winter, in warmer weather you may able to access a pool, pond, lake or ocean for free. If you don't know how to swim well then even playing in the water or treading water may help you increase your heart rate. If you can swim, then doing a certain number of lengths or just moving for a certain time period can be great exercise. Not only does swimming offer a good cardiovascular workout but it also is low-impact meaning you can often do it even if you have an injury from another sport.
Exercise DVDs
If you choose to purchase an exercise DVD then you will need to make a one time investment on something that will help you work out for years to come, but you may also be able to borrow DVDs from your school or public library for no cost. Common exercise DVD categories include:
Yoga (stretching, strengthening, toning)
Pilates (stretching, strengthening, toning)
Aerobics (cardiovascular)
Dance (cardiovascular, strengthening)
Weight routines (strengthening)
Taking Advantage of Your Student Status
Being a student might also reap you some free rewards when it comes to exercise. Check in at local sporting goods stores and gyms to find out if there are any discounts for students, and ask if there are any free introductory sessions or evaluations with proof of student status. The worst anyone can tell you is no!
There are many options for people who want to get fit without spending money. Walking and running, using the stairs, engaging in calisthenics, swimming and borrowing exercise DVDs are all viable options even when you are low on cash. Taking advantage of your student status might also net you some free or discounted exercise items or experiences.
You might also like...