Coping With Strict Parents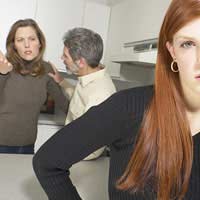 Sometimes parents set rules because they fear for their children's safety, because they don't think that their children can do it for themselves or even to stay in control or to bring about a desired outcome or simply because they can. Regardless of why parents set rules teens must learn to live within these guidelines. But what happens if parents are overly strict?
Meet in the Middle
Often teenagers don't recognise that they have strict parents until they brush up against a rule that they don't like. If this is the case for you, don't bother yelling and screaming about the unfairness of it all because chances are your parents will ignore you until you yell yourself hoarse. Instead, meet your parents in the middle. Ask them to sit down with you to discuss:
Every rule under which you operate.
The rules that you understand and respect.
The rules that you feel are unfair.
The reasons why you feel that these rules are unfair.
The reasons why your parents feel that the disputed rules are necessary.
Possible compromises regarding rules that could be relaxed.
Show that You are Serious
If your past behaviour leaves your parents rolling their eyes at your level of responsibility, offer to show that you are serious about the compromises that you have suggested. Don't just give them empty promises, but rather let your parents see your intentions in your actions. Consider:
Drawing up a contract that you are willing to sign regarding the compromise rules.
Suggesting appropriate punishments in the event that a compromise rule is broken.
Offering to take on extra responsibilities at home in order to compromise on some of the household rules – or better yet, just start taking them on.
Detailing, in writing, exactly why you should be rewarded with compromise rules and what you will learn from the changes.
Stay Calm and Collected
In order to succeed in coping with strict parents you'll need to not only show that you are serious about changes in their rules, but that you can be a serious teen as well. Stay calm and collected at all times when discussing your parents' rules, and avoid:
Raising your voice.
Interrupting others.
Whining.
Running away.
Throwing/kicking/hitting things.
Slamming doors.
Ask for Help
If, despite your best efforts, your parents refuse to budge regarding the rules of their regime then you may need to ask for help from other adults. Remember, you'll need to be totally committed and truly believe that your parents' rules are outrageous or you'll run the risk of looking immature and/or insincere. If you remain committed to change, then enlist the aid of:
A relative or family friend.
A teacher or guidance counsellor.
A member of the clergy close to your family.
A private or family therapist.
A trained mediator.
Most parents make rules in the best interest of their children, but sometimes they go a little overboard. If you are coping with strict parents, do your best to speak with them seriously about their rules and the effect that they are having on your life. Show your parents that you are committed to compromising and you might be pleased with the results. But if things don't go your way and you truly believe that your strict parents are affecting your life, then consider asking for help from another trusted adult. Whatever you do, be ready to commit fully to any compromises that your parents offer and don't ever make them regret their decision. Remember, regaining lost trust will be harder than it was to bring about a compromise in the first place.
You might also like...
Anyone who feels like they want to talk hmm my ig is @d_arlene_
I am 14, and I live with my dad and brother, and my dad is pretty strict. I'm not allowed to talk to new people and especially not hang out with any girls. and I'm not allowed to use any socials anymore, (although I was a year ago) because my dad believes I'm conspiring against him and all his beliefs. I'm not allowed to watch YouTube because it's "trash content" I'm not allowed to use Insta bc he's afraid of predators, and he hates the idea of me actually interacting with other people. And he has a system where he shuts off the internet super early so I can't even listen to music, or call people on the phone. At the moment I don't even have a phone, all I have is an iPad and it's heavily restricted. I'm not even allowed to do anything during the day except for online school work(because of quarantine) And he constantly calls me spoiled, just because I complain and try to negotiate with his rules. And all we do is fall backwards. I've pulled my act together since the last time I got in big trouble, and all that's happened is things have gotten worse. I'm considering running away. Blegh...
Fredd e
- 17-Dec-20 @ 4:00 PM
My parents are very strict i am a junior, I cant have my phone in my room and I have a bedtime. I hate the verbal abuse my mom does to me . She acts like grades is my whole life and represents who I am. I hate it and I rather be homeless or broke then live with them
Dan R
- 8-Dec-20 @ 10:44 PM
well, I am 16 turning 17, I feel like my parents can't trust me with anything I got to have my door unlocked and opened and give my parents my phone at 9pm and could get it at 8 when school starts. They make mean jokes that to them is funny and when I take it serious and get hurt they say "I am overreacting". Also I could never go out and if I do my mom needs to be there. I also can't be in a relationship even though I am in one and it's hard because I got to lie about my working hours to them. My mom expects me to do everything and I have to do chores while I am in school. They don't believe in depression or in anxiety. I am most of the time in my room without any social activity and it hurts because I can't do anything since my parents are always in my business like the way I dress, the music I listen to or the way I act. I just hope I make enough to pay rent at 18 and move out I am honestly scared of being home and can not stand one more minute being here.
k3nia
- 8-Dec-20 @ 9:08 PM
I am 20 and I always feel fear in my own home.Cause my mom throws a tantrum when ever I have semester exams.she makes hurting jokes and when I take serious about them she acts as her bp has gone too much because of me and she will make all other family members to scold me.Its very difficult to live like this.Daily morning I feel fear to wake up as if I am living in horror home.please suggest me anything on how to live with this horror family.
Anu
- 30-Nov-20 @ 12:51 AM
i hate my parents so much i feel like they hate me all the time theyre always looking thru my phone as if im hiding something and im not, they make me feel so bad of myself and always expect me to be better and now theyre always saying fat shaming jokes and they hurt me and i usally try my best to not eat but they end getting mad.i hate this life i wanna die.
anahi
- 26-Nov-20 @ 12:00 AM
I am 17 years old and I just found out that I was pregnant and I told her so now it seem like she making me stay inna house or she won't let me go nowhere it she won't let me see or go with my babydaddy and I'm getting tired of it
ShayShay
- 3-Nov-20 @ 8:04 PM
I hate my mom and dad whatever my dad says go's i just now got a phone at 15 and i feel left out i have bipolar disorder which i take medicine for.I play sports every now and then but my parents dont want me to have a social life at all i think.i have threatend with moving out and suicide and at this point i'm on the verge honestly if i have to be told to do a chore then i'm such a horrible kid my sister is spoiled.I'm not trusted with a knife even though I try to buy one with my own money.I blow up at them sometimes bc they are selfish and put there hobbies before things we like all the time.Please somebody help me and give me advice.
Austin
- 1-Nov-20 @ 1:59 AM
Gosh, I wanna give you all a hug. I'm not gonna explain my whole situation but I'm 16 and if you ever need to vent or need a friend my instagram is @wlyissell
Yissell
- 30-Oct-20 @ 9:56 PM
Wow it makes me sad seeing others passing through the same things. I have a phone, im allowed to use it when I want but my dad randomly checks it. I'm not hiding anything but I know he'll find anything to take my phone away. I'm not allowed to use shorts or tank tops. I live in an apartment complex so my dad makes me wear a sweater because of my neighbors but I don't see the point in it because I don't have any curves. I'm a sophomore in high school and because of corona it ruined my chances of seeing my friends during school. That's the only time I would see them and my dad is glad we're doing school online. does he not understand how much this is affecting me? Before I entered school(kindergarden) I had more freedom because I was allowed to wear shorts/tank tops and hang out with my neighbors but that all changed when I entered school. High school is supposed to be fun , hang out with your friends and stuff like that. what parents are really saying by restricting us is that they dont trust us. I cant even facetime my friends cause I have no privacy, i share a bedroom with my parents(i know right), im not allowed to go to parties(i understand with covid but precorona) he equals it to drunk, drugs, and getting pregnant. Does he really think that low of me? when i grow up i want to be a model and a singer or study psychology just to understand why our parents are like this. I dont have support from my dad of becoming a singer/model cause he doesnt want people to know I exist. I kind of get of where he's getting at because of child predators and stuff but they are so many famous teens my age and nothing has happened to them.
justme
- 22-Oct-20 @ 2:59 PM
So yeah. I am 14 years old, i think i have really strict parents too. Especially when it comes to school grades. So i live in Europe (that means we don't have letters, but numbers for grades, 5 being A, 4 being B, 3 being C, 2 being D, and 1 being F). My parents only accept 5-s, and if i write a 4 (which i think is still a pretty good grade), or something even worse (doesn't happen a lot, i am usually a good student), i get yelled at all the time. They tell me they are dissapointed in me, for a grade that is actually good. They take away my electronics, force me to study for hours and don't let me do social stuff. Like hang out with my friends, invite them over or go to a friends house. They invite me to sleepovers and stuff, but my parents never let me, beacuse they say i don't deserve it. I know my older sister was a perfect student, always being the top of the class, and now being a doctor, but they must understand, that i am different. That doesn't mean i'm bad at school. Not at all. I am just not as good as my sister was. And that is something they can not accept.
BenCsusza
- 22-Oct-20 @ 2:22 PM
i live with my grandma and she is very strict she always wants me to wear what she wants not just that but i am not allowed to wear a shirt that does not go below my waist or below my bottom it honestly sucks. she goes thru my texts. i dont even have my own phone i have to use her extra phone. and im 14!
Lexi
- 22-Oct-20 @ 1:44 PM
I can relate to some stuff y'all are saying I'm 15. I have always used the excuse why my moms so strict is because "she's a social worker" I'm not allowed to have social media,she yells at me all the time I honestly think that she thinks I'm not going anywhere in life,since the pandemic I can't do nothing till all of my homework is done,yell's at me all the time,I'm embarrassed that my friends all think that.For example she picked me up at 4 when my other friends did not leave till around 7 because she said "I don't know them all that well so I don't trust them with you.plus she yelled and screamed at me today for dropping a newspaper that's right.since my nickname is metal head that means I like heavy metal music and she thinks that it is devil music granted I'm a Christian to think god my dad sticks up with me for that without my dad I would be screwed.my mom has no idea how I feel the majority of the time and she thinks she knows everything about me when she doesn't. And I'm tried off her treating me like a dumb kid I hope and pray god opens her eyes and maes her see what my life is like I'm sorry if this doesn't make any sense to the person reading this I have Sympathy for you if you're life's like mine.
Metal head
- 14-Oct-20 @ 6:53 PM
yall i pray god makes a way to make this shii better if an of yall wanna contact me my gram is @vvvs_backup
jellybeann
- 14-Oct-20 @ 4:10 AM
Please respond if any of you guys have it as bad as i do (at 13 years old it's hard) 1. we absolutely do not celebrate Halloween 2. we only go to church on Christmas (no tree no presents no nothing) 3. we only go to church on Easter (no egg hunt no chocolate no nothing) 4. my parents (especially my mom) are INTESLY RELIGOUS 5. we go to church every Sunday and every opportunity thorough the week 5. we were forced to learn an instrument (no sport) 6. no pet my mom took away out electronics (even though we didn't do anything wrong) everyday when she when to work 7. we have to charge our electronics in the den 8. wehave to ask our parents to watch tv 9. girls could not wear off the shoulder clothes 10. we prayed for more than 1/2 an hour every morning and night 11. since it's covid, i am forced to sit and listen to an hour of 3 year old Sunday school every Sunday at 8:00am 12. i had to ask my parents to watch any movie trailer, movie, or book 13. i never read/saw harry potter, game of thrones, lord of the rings, etc 14. my parents had to inspect each book i was reading 15. if we wanted to draw, read, do homework, we had to do it in the "study room" (bed only for sleeping) 16. absolutely no magic of any kind, horror movies (even the kiddy ones) 17. no dying hair (even the temporary kind) 18. no piercings 19. no cutting hair too short (for girls) 20. i had to ask my parents to use my Chromebook and phone (got mom's used phone at 13) 22. had to charge my phone in my parents bedroom 23. me, my sister and my mom all had to share one charger (mom did not want me to use it secretively) 24. expected no less then 95 in all core subjects
Esther
- 8-Oct-20 @ 12:37 AM
According to Maslow's hierarchy of needs, having a social life is one the key components of having a balanced lifestyle. my parents do not force me to study long hours or ban be from electronic devices like most strict parents do. instead they do something far more worse, and that is restricting me from meeting up with my friends outside of school grounds. during primary school I made a big mistake and I skipped school without telling them; I believe that's when they started to change. My parents became strict and until this day they still do not trust me to be a young adult and make choices for myself. Now I realised what I did in primary school was stupid and dumb, but that's all part of growing up. We all learn from our mistakes. now I am sixteen almost seventeen and I'm not allowed to even go out with my close friends. Especially with the lockdown It made my life even worse I at least had a social network of friends at school but with school gone I was stuck at home.It has impacted me to the point that I just want to cry into my pillow. HAVING A SOCIAL LIFE IS A NEED!!!!!
RaRa
- 30-Sep-20 @ 12:43 PM
Tehbot, BRO WE'RE LIKE THE SAME PERSONNN, I hate my parents because I always get one thing wrong and I get punished for a week and I sometimes might get my electronics back on the weekends. We have to be so perfect just to get regular things that other kids get every day. I'm anxious like you too bro.
Miles
- 25-Sep-20 @ 10:53 PM
so my school gives us test alot and each week is guaranteed to have atleast 1 test and alot of homeworks and it gets worse during corona pandemic. so as a way to relieve my stress, i would play games after school but only after i did all my homeworks. my parents would limit my game time to 2 hours a day including phone unless its for school purposes and i am only allowed to play games at friday, saturday, and sunday. now imagine that for every mistake you did either oversleep and be late for school or forgetting to do the chores or even getting a bad score they would ban you for playing games and other electronic devices for the whole week and monitor you on wether or not you are using any electronic devices phone or computer for 24/7. i hate my parents very much because i am 15 and i have some problems with my self esteem and i am overly anxious all time and that i am always afraid to make mistakes. i blame my parents for it till now but either way i can't help but feel that either way they are still my parents and that that my mother is the one to gave birth to me and that i would not be able to live comfortably if not for my father.
TehBot
- 25-Sep-20 @ 4:49 AM
so my school gives us test alot and each week is guaranteed to have atleast 1 test and alot of homeworks and it gets worse during corona pandemic. so as a way to relieve my stress, i would play games after school but only after i did all my homeworks. my parents would limit my game time to 2 hours a day including phone unless its for school purposes and i am only allowed to play games at friday, saturday, and sunday. now imagine that for every mistake you did either oversleep and be late for school or forgetting to do the chores or even getting a bad score they would ban you for playing games and other electronic devices for the whole week and monitor you on wether or not you are using any electronic devices phone or computer for 24/7. i hate my parents very much because i am 15 and i have some problems with my self esteem and i am overly anxious all time and that i am always afraid to make mistakes. i blame my parents for it till now but either way i can't help but feel that either way they are still my parents and that that my mother is the one to gave birth to me and that i would not be able to live comfortably if not for my father.
TehBot
- 25-Sep-20 @ 4:46 AM
Hi My parents are the same I'm 15 and I don't havea phone only 40 mins on my iPad and I'm not allowed up after 8.30.I'm not even asked to walk around my village!!!!!!
Sooo, my parents are kinda strict I guess... I mean for being a 15 year old and still being treated like this is tuff. I have never went to a sleep over in my life. And my parents expect alot out of me because my other siblings are doing bad in the world. So I have to be almost perfect and if I don't, I just get yelled at and grounded. I get grounded for the smallest things like, eating in my room, or forgetting to do something but I have ADHD so it happens alot. I can go places but I just miss Pre-Corona because now I'm stuck in my house with my parents alot. My brother moved out of the house and I now just realize how much I miss him. I would always talk to him if my parents were too strict on something and we would always discuss how strict they were. It makes me sad and mad as hell because my parents really think they are being a good pair of parents. I've been thinking of just going to someone elses house to get out but no one is really close to me. I feel as if I weren't in my house, nothing would get done. My mom depends on me ALOT. Not saying I won't help her, but it's just very very constant. My dad is somewhat better though. I just have issues with my mom because she's very verbal. I get grounded every week and yelled at a bunch. I have nothing to do anymore. I can't go outside of my house unless it's just walking around the neighborhood and with my friends. I just don't think I can express this to them, because I feel like they're going to have a identity crisis. (not on topic but I'm kinda going through one too. I just neeed a break from my parents right now. They call me lazy for not doing chores everyday and the homework I'm assigned. I also have a out of school homework thing. It's alot of work. I stress everyday to keep them happy and to keep myself happy (I'm not depressed). Sometimes I just think to myself, why did was I born in this family? Not saying that I would kill myself but I just have to work really hard to keep them pleased. My parents never really reward me for keeping up my game and the name-calling only makes it harder for me to not get mad. I don't do any type of drugs or drink any alcohol, but I still feel like at the end of the day I'm doing something wrong. They call me a good kid and I believe that but I just wish they would change their ways on punishing me and just express why they're mad. Well that's it :(
Miles
- 22-Sep-20 @ 7:16 PM
I am 15 years old and my mom pressured me into telling her who I like (I never ended up telling her) but eventually she smacked my cheek and I started to cry. In another occasion, my younger brother and I had a pet guinea pig and I take care of it the most, so I went out for about an hour and a half, so I was not able to take care of it. The next day my mom gave it away while me and my brother were in a zoom meeting just so that we wouldn't cry, wine or yell (I even had an instagram account for it, go follow on insta: its.me.maple) And she took away my phone for three months after she saw me holding hands with the guy I like for like 30 seconds. And lastly, she cancelled a 40 day vacation trip to the Bahamas last summer because I got a B on my report card. I dislike my mom very much because she also called my friend fat in front of her family and mine.
Danae
- 8-Sep-20 @ 9:49 PM
I can relate to a lot of the stuff y'all are talking about and it really sucks. If I went on about everything my parents did I'd be here for years. But to sum it up, my family is very dysfunctional and my parents project their childhood trauma onto my siblings and I all the time. I told my dad about my suicide attempt and he started talking about how his childhood was worse. I'm rarely allowed to hang out with friends which has caused me to lose a lot of friendships and it makes me feel lonely to see everyone having fun together on social media while I sit at home. My parents pressured me into getting a job so they can spend less money on me and now that I have one all they do is complain about having to take me to work because I'm 16 and can't drive by myself yet. They say that I'm selfish because I don't offer gas money but I already pay for my phone bill and I'll be paying for half of my braces when I get them in a few weeks, and I pick up small groceries from time to time so I definitely don't just keep all my money to myself. I also buy hair products for myself that my mom always takes and doesn't return or wastes. But still nothing is good enough. My dad says he doesn't want me to move to a college far away because he won't be able to help me but I know he really just wants me to go to his dream college or one closer to home so he can continue to control me. I only have 2 years left so I'm trying my best to stay strong. I have really good grades so I hope I can get a full ride to somewhere states away, I'm not even picky about the college as long as they have a good psychology program so I can help out kids like us. That way I don't have to rely on them financially and they can't hold anything over my head when I'm an adult, or get mad when I don't communicate with them often. I know everyone in this thread probably isn't religious, but it's my first day of the 2020/2021 school year and I wanted to say a prayer and include you guys too. I hope that your situations improve or that you can eventually heal and find peace. Stay strong!
My parente are quite strict,,, im 14 and i used to not have that much restrictions on my phome and devices last year but as time got on they have started giving me more restrictions which just doesnt make sense to me at all,,, im only allowed to use my phone for 4 hours a day during the summer holidays and and 30 minutes on social media,,,,, im not addicted theres just nothing else for me to do i also do a lot of Hyperfixation which was the cause originally but they dont know nor do they probably even care. Hyperfixation is usially a coping mechanism for pepple with mental health issues but i knlw my parents do not care about mental health whataoever so i serioudly doubt i dont talk to them about these stuff because i know they womt change and my mom also scares me a bit, i just want to leave athis point, im a good student, i get good grades, i domt understand what more they could want. This really comfused and upset me and i dont like thinking about it so i just make myself faint to forget abt it,,,, i dont like doing it and it makes my head hurt but i just cant stand them,,, my mom is just terrible,,, she literally threatens to k1ll me and calls me the devil,, when ive done nothing wrong ??? Is there anything i should do??? I need some advice,,,
leo
- 30-Aug-20 @ 8:08 PM
My parents are soooo strict. They invade my privacy and it feels like I have no freedom. My mom always goes through my texts and deletes them if she doesn't like them without even telling me. They make me go to bed so early at around 10 PM even during the summer when I don't have to wake up for school and I have nothing to do next day. They also are very strict with my sister and always invade her privacy. Like one time she was in the shower and my dad tried to get in and yelled at her for locking the door. And she was in the shower naked. And my mom always goes through her computer and looks at everything. I think the rule should be unless we have done something really bad or whatever, there should be no reason to look through our devices. Smh, I wish I had better parents.
Bryan
- 10-Aug-20 @ 4:39 AM
I relate to you guys a lot.Theyve made me so depressed in the past I wanted to end my life.But to me I'm quite religious and I kept praying and I decided that I can do it until I'm 18.I hated them so much I started counting to move out when I was just 10.Im now 16 and I still hate it here. I'm quite close with my dad he is more chiller than my mum.He let's be get stuff and in general it's easier to convince him to do things.But my mum has mental issues I swear it's because of her I hate my life so much .And all these stupid people tell me she's your mother but you don't know how she's treated me she treats me so diff compared to my younger brother and sister.i consider her my birth mother nothing more,I've tried so hard in the past to be loved by her and get a good relationship I just gave up.One of my birthday candle wishes were to be loved by my mother.It all started because I lived with my grandparents in another country from 6months to 4years so it's not my fault I'm closer to my grandparents.It was my dads parents and my mum doesn't get along with them and she hated this idea of me loving him.So when I came she was being nice ish and my grandparents left back to india when I was sleeping so when I woke up they were gone and I was so upset and lost.Then Ofc my stupid mother she abused me physically and emotionally from young age saying "I do it because I love you" ugh I have memories of her dragging me down the stairs when I was just 9/10.She is one cruel being and once I was so depressed I wanted to end my life so bad I decided to write it in a secret diary she found it and got angry at me and then started crying saying taht my grandma fed lies to me when in fact she didn't say anything I grew up with her treating me like this Ofc I'm not gonna like you.Shes so much nicer to my siblings but yk what idc I have my dad.Sorry ahah I got carried away but I love reading long stories about strict parents To feel good about myself so I thought I might be able to help someone else aswell but yea so I'm not allowed to wear shorts or crop tops ot anything that shows my armpits like off shoulder tops and stuff.I cnat wear tank tops with single straps.Everything I wear has to be below my knee if it's above I have to wear leggings or very dark tights.Its so unfair and I feel like because I'm chubby I've got everything and my parents tell me off for wearing tight stuff because of my body shape.my mother literally said it's nice if you were skinnier fat people can't wear that.Like bish shut up.Anyway I'm not allowed to ever go out my mum asked me if I had no shame asking to go to the beach like wtf but my dad on the other hand it's easy to convince him to let me out but my mum is always home it's hard.Our wifi gets turned off at 9pm and 10pm in the holidays she expects us to sleep and wake up early no matter if it is the holidays.The reason I am fat is because of her and obviously I do binge occasionally because of the way she makes me feel but also because
Marie
- 2-Aug-20 @ 4:14 PM
my parents are too strict. they only let me play a game for 1 hour even in the holiday,, i keep telling my parents all of my friends have phones and I'm just asking for a little thing to increase my video game time ,, but they never will ,, instead I'm always sad and can't ever do my studies.
vlectus
- 24-Jul-20 @ 7:53 AM
Im 16 and ive never ever have hung out with my friends. thats why i lost so many friendships not being able to hang outside of school. Both my freshman and sophomore year i didn't go to homecoming. Im not even allowed to go outside my house. And at exactly 10 pm i have to put my phone in my parents room. My mom is always yelling at me for the smallest and dumbest things. She thankfully stopped hitting me around 2-3 years ago, but the verbal, mental, and emotional abuse just keeps coming. And my mom wonders why i am on my phone and computer so much. i cant go out so i have to do something. All she wants me to do is clean, clean, and clean. Shes a cleaning addict. honestly can't wait to leave to my own apartment. Id rather be broke and homeless than stay in this house a minute longer.
Nessa
- 22-Jul-20 @ 8:56 PM
Before I reached puberty, my parents treated me very well, just like many parents do to their only child. Being my social partners and guardians from my rotten primary school teachers. Then once I reached fourteen, everything turns to the opposite. Good thing the high school teachers are nice, but my parents are, I know it's offensive to my race, total CHINNNKS!!!! They always blame problems on me, annoy me with their stupid long babbling and not only they control everything, but they also control my habits. None of the methods are working. I felt like I lost hope and have to deal with it for the rest of my teenhood.
Ian
- 25-Jun-20 @ 5:20 AM
That is sad I can relate to every single one of you...I'm not gonna write about it because I would take up to like 2 pages...but anyways my parents are just so outta pocket with everything I do...it really sucks...
BarbieAri
- 24-Jun-20 @ 3:33 AM