Making Friends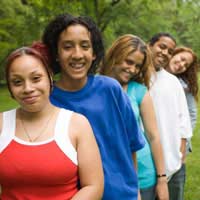 There's only one thing worse than looking like a Billy No-Mates and that's BEING a Billy No-Mates! It's hard for anyone to feel as though they are all alone or that no one understands them, or that they have no one to turn to when they want to have a good cry, a good laugh or anything in between. Yet it can be even harder to make new friends, even if you really want to. Making new friends means putting yourself out on a limb and asking others not only to accept you, but to like you and want to be around you as well. Unfortunately there is no magical solution to this part of the process, so if you want to make friends, take a deep breath and jump right in!
Figure Out What Is Holding You Back
The first step to making new friends is figuring out what is holding you back. A lot of times people who are interested in making new friends don't know why they don't have them already. They can't see that their own actions are working against them. Some of the reasons people fail to have, or make, friends include:
Shyness that keeps them from participating in social situations.
A lack of self confidence that prevents them from expressing themselves.
Not knowing themselves well, so they are unable to find similar interests and qualities in potential friends.
A poor grasp of social skills, making interaction with others hard.
Falling into a rut and going to the same places, seeing the same people and doing the same things.
Using television characters and cyber friends as substitutes for real life friends.
Moving to a new place and feeling paralysed with fear or uncertainty.
Break Through Your Barriers
Once you can identify what is keeping you from making new friends, you need to work through these concerns. This can be painful because you will need to put yourself outside of your comfort zones to see any real differences. You might find it easiest to take smalls steps starting with a structured social environment like a club or event, so that you can meet new people but it's not your main focus. Particularly good are activities in which there are no try-outs so that everyone is welcomed and valued. Investigate:
After school societies and organisations.
A book club at the local library.
Sports teams and clubs.
Small group lessons such as tennis, crafting or cooking.
Tryouts for a community theatre or singing group.
Shine in Social Settings
Congratulations! By attending events that interest you, you've already multiplied the number of potential friends you will meet. The next step is to shine in these social settings so that others will leave with a positive impression. If you find social situations hard, just rely on a few simple rules.
Introduce yourself. This can be hard, particularly when it means walking up to strangers, but you can't make new friends without letting them know your name.
Have something to say. Don't worry about being brilliant or hilarious because even a simple observation about the event or the group will help you start a conversation.
Smile. If you look approachable, more people will approach you!
Get a number. It may seem strange to ask someone you barely know for their number without meaning it in a romantic way, but if you think you've clicked you're going to need a few more meetings to make sure. Don't be afraid to make the first call!
Be patient. No one makes a close group of friends the minute they want to, but that doesn't mean that new relationships won't grow over time.
Celebrate Your New Friends
When you feel confident that you've made some great new friends, get out there and celebrate with them! Consider having a special dinner, taking a day trip or even throwing a party to mark the occasion. No matter what you decide to do, the important thing is to celebrate your new friends and hopefully continue cultivating more.
Good luck!
You might also like...