The Most Common STIs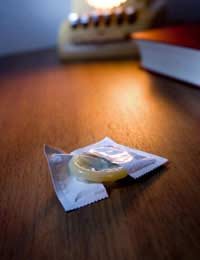 Sexually transmitted infections, more commonly known as STIs, are health hazards you must be aware of if you are sexually active. The most common STIs include chlamydia, gonorrhoea, genital herpes, genital warts, HIV and syphilis.
The use of condoms, which are known as a "barrier method" of contraception because they place a barrier between the bodies involved, will help protect against STIs if they are used every time you are sexually active whether you engage in oral, anal or vaginal sexual intercourse.
However, while condoms can provide safer sex they can also be used incorrectly, or malfunction, and leave you at risk of passing or catching an STI. Some STIs can also be passed via sex toys. These are things you must consider if you are or plan to become sexually active.
Chlamydia
Chlamydia is a bacterial infection that usually does not have severe symptoms but can severely damage a woman's reproductive organs and even lead to infertility. Women who are infected with chlamydia may notice unusual vaginal discharges, vaginal bleeding, pain during sex or while urinating and/or a more general lower abdominal pain.
Women infected with chlamydia can pass this infection on to their babies if they become pregnant. Men who are infected with chlamydia may notice a discharge from the penis and/or pain while urinating. A more general pain in the testes may also occur. Chlamydia can also infect the rectum, throat and eyes. It can be treated with antibiotics.
Gonorrhoea
Gonorrhoea is another bacterial infection which may not have any severe symptoms. In fact, the symptoms it does bring are quite similar to those of chlamydia, including vaginal discharges and bleeding as well as pain while urinating for women and an unusual discharge and pain during urination for men.
Gonorrhoea can also infect the rectum and eyes, which might lead to symptoms of discharge and pain, as well as the throat which may not have any symptoms. Women who's gonorrhoea goes untreated will be at increased risk for damage to their reproductive organs and pregnant women can transfer this infection to their babies. Gonorrhoea may be treated with a single dose of antibiotics.
Genital Herpes
Genital herpes is a form of the herpes simplex virus, the same virus that can cause cold sores. This virus penetrates small cracks in the skin or mucous membranes and therefore can affect the mouth, vagina and rectum. Herpes is a sneaky virus and can wait quietly in the nerve cells until something triggers it and you become infectious.
Common symptoms of genital herpes include pain (stinging or burning) or itching in the genital area, small blisters on the genitals, buttocks or general groin areas, and pain while urinating. While there is currently no cure for genital herpes this STI can be treated with antiviral drugs to help relieve symptoms and shorten outbreaks.
Genital Warts
Genital warts are believed to be the most common of all STIs. The human papilloma virus (HPV) causes genital warts, a few types of which can cause cervical cancer in women. Genital warts can be transmitted during sex but also during skin-to-skin contact. Most often genital warts develop on the vagina and urethra as well as on the vulva, cervix, anus, penis, and scrotum.
Though rare, warts can also be passed from the genitals to the mouth or lips during oral sex or from a pregnant woman to her baby. Some genital warts may be itchy. There is no cure for genital warts, but outbreaks can be treated directly with creams, preparations, heat or freezing treatments and even surgery.
HIV
HIV, the human immunodeficiency virus, can be passed via infected blood, semen, vaginal fluid and breast milk, and infected women can pass HIV on to their babies. The symptoms of HIV closely mimic those of the flu at first. Fevers, night sweats, swollen lymph nodes and diarrhoea can all be symptoms of HIV. A blood test can confirm the presence of HIV antibodies and therefore infection.
There is no cure for HIV, though antiretroviral drugs can help slow the progression of the virus. Eventually HIV can develop into AIDS or acquired immune deficiency syndrome. AIDS can be confirmed by blood tests as well. There is currently no cure for AIDS.
Syphilis
Syphilis is an STI caused by the Treponema pallidum bacteria. It can be transmitted via sexual contact, skin-to-skin contact if someone has a rash or sores, as well as from a pregnant woman to her baby. Syphilis develops in three distinct stages. Symptoms of primary syphilis include sores anywhere on the body though especially in the groin areas.
Secondary syphilis symptoms include an itchy rash, particularly on the hands and feet, as well as growths that look like warts on the groin and anus and flu-like symptoms of fatigue, swollen glands and white patches in the mouth.
Symptoms of tertiary syphilis include damage to internal organs like the heart and brain. If left untreated syphilis can cause death. Syphilis can be confirmed by blood test and physical examinations. Primary and secondary syphilis is easily treated with antibiotics.
STIs are infections that can be avoided by the proper use of condoms, but they are nothing to be ashamed of if you do contract them. Before having sex with a new partner insist on having STI tests and if you do suspect that you have been infected with an STI have another test immediately. Your GP, genitourinary medicine clinics and sexual health clinics can all help diagnose and treat STIs, as well as provide advice on informing past partners and safeguarding your sexual health in the future.
You might also like...