Safer Sex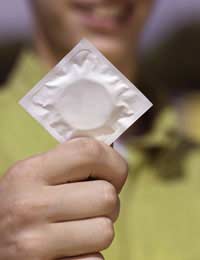 You've probably heard it all before but it bears repeating: the only truly safe sex is no sex at all. Abstinence is the only 100% guaranteed way not to contract a sexually transmitted infection (STI) and/or fall pregnant. However, there are many ways to lower the risk of these outcomes, particularly by using a condom as well as another method of birth control each and every time you engage in a sexual activity.
Lowering the Risk of STIs
Unfortunately, a variety of sexually transmitted infections (STIs) exist which are easily passed from person to person during unprotected sex. Chlamydia, gonorrhoea, syphilis, and HIV might be the most well known STIs, but there are also other conditions that can be spread as well. Pubic lice, scabies, genital herpes, genital warts, and trichomonas ("trich") vaginalis can all be transmitted during unprotected sex as well. There are ways to make sex safer, though, particularly by using a condom. A condom creates a physical barrier between people during oral, anal and vaginal sex so it can help keep infections from being spread. Condoms do not always keep STIs from being spread, however, because sometimes they are put on incorrectly, slip off during sex, and even break. Accidents do happen. Condoms are also often used with lubricants, but lubricants with spermicide can have an adverse effect on condoms and should be avoided.
STIs can also be transmitted during foreplay, so any areas of the body that have open wounds, sores or warts (such as fingers) should not come in contact with the genitals. Some STIs can also be transmitted to different areas of the body, such as from the genitals to the mouth, so it is important to take care whenever contact between any body parts occurs. Sex toys can also carry the risk of STI infections because they come in contact with bodily fluids, so anything that will be passed from person to person, or shared between people, should be thoroughly cleaned before each use.
Lowering the Risk of Unplanned Pregnancy
Pregnancy is also a worry for anyone having sex, and while a condom does provide a barrier that can literally keep a male's sperm away from a female's egg there are also a variety of other birth control methods which can minimise the risk of pregnancy. The contraceptive pill ("the pill") and/or patch, contraceptive injections, contraceptives implants, intrauterine devices such as the coil, and diaphragms/caps are all common types of contraception that can be accessed from a GP or family planning clinic. Condoms can be bought at most chemists and used alone in or conjunction with another method of contraception. Many young women like to double up on contraceptive methods, such as by taking the pill and insisting that their partner wears a condom, and this is important because any method that does not create a barrier between bodies can not protect against STIs as well as pregnancy.
If you do have unprotected sex, or if an error occurs with your preferred method of contraception, for example the condom breaks or you forget to take a pill, then some types of emergency contraception are also available. An emergency contraceptive pill can be taken up to three days after unprotected sex, while an intrauterine device such as the coil can be fitted up to five days after unprotected sex to prevent pregnancy from occurring. Emergency contraception pills can be prescribed by doctors or bought without a prescription at pharmacies. Any type of IUD will need to be fitted by a doctor or nurse.
Though sexual activity is always risky, there are ways to lower the risks of contracting a sexually transmitted diseases and/or falling pregnant. Using a condom each and every time you engage in a sexual activity is imperative, and couples will likely want to add another layer of protection by consistently using another form of birth control as well. In the event that there is a malfunction with the condom or a problem with the birth control method, emergency contraception can be accessed to lower the risk of an unplanned pregnancy, though the chances of contracting an STI may be greater so medical tests should be performed and treatment sought immediately.
You might also like...
My dad is threatening to take my phone off me so i cant watch de stuff what do i do
HOiya
- 4-Apr-19 @ 10:38 AM
okay fido... men jeg syndtes det er dejligere uden. men jeg vil heler ikke have en møjeunge***.. hvad syndes du jeg skal gøre???
fisseministeren
- 17-Mar-17 @ 8:20 AM
vis du boller din kone uden komdon kan det være der kommer en møjunge, som du ikke kan holde ud... så vis jeg var dig ville jeg bruge komdom og en masse glidecream
jens
- 17-Mar-17 @ 8:16 AM