Dental Braces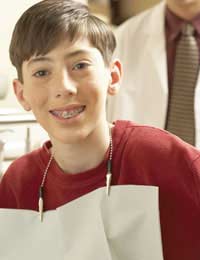 Many teens are advised to wear dental braces for oral health. Unfortunately there are myths and rumours surrounding dental braces that can be off putting. If you are thinking of wearing dental braces but are unsure of the facts, then read on for answers to frequently asked questions about dental braces.
What Are Dental Braces?
Dental braces are a type of orthodontic treatment, or treatment that corrects abnormalities of the teeth and surrounding areas (for example, the jaws). Dental braces themselves are simply small devices fitted onto the teeth that pull individual teeth or jaws in a desired direction.
Why Are Dental Braces Needed?
Dental braces serve a variety of purposes. Most commonly dental braces are used to straighten teeth that have grown in crooked and/or align the upper and lower jaws. For some people this may be a strictly cosmetic procedure (they just want to have nice straight teeth), but others may get more medical relief. For example, sometimes when teeth are straightened and the jaws are aligned pressure is taken off of the joints that are located in the mouth and the wearer feels much more comfortable. The health of teeth and gums can also be improved when teeth and jaws are realigned to make better cleaning possible.
Who Can Wear Dental Braces?
Dental braces are available to both children and adults, though evidence suggests that they work better in younger people. There is no specific age at which a child can begin orthodontic treatment, but there must be enough adult teeth available to work with before dental braces can be fitted.
How Are Dental Braces Fitted?
Either a dentist or orthodontist fits dental braces for patients. These professionals carry out a full dental examination, take X-rays and then make plaster moulds of the teeth. Once it is decided that dental braces are the best option, treatment can begin as soon as there are enough permanent or adult teeth available. Sometimes there may be too many teeth present, which means that teeth must be pulled out before treatment can begin. The devices themselves are made according to the moulds taken, and then individual brackets are fitted to each tooth. Small wires, and sometimes elastics, hook between the brackets to keep them all in line.
What Kind of Dental Braces Are Available?
Most of the dental braces fitted on the NHS are made of metal brackets (the little devices that attach to the teeth). Plastic and ceramic brackets are also available, and many people prefer these because they are less visible. "Invisible braces" or clear plastic moulds that fit around the teeth may also be offered, though usually privately.
Do Dental Braces Hurt?
Immediately after dental braces are fitted there may be some discomfort. Shifting teeth and jaws as well as alien brackets can all cause discomfort, but there should be no real pain. Patients who experience any discomfort should report to their dentist or orthodontist immediately as adjustments may be able to be made.
How Long Do Dental Braces Usually Stay On?
Most patients wear dental braces for one or two years. Some may only need to wear them for a few months, and others may need to wear them for longer than two years. Throughout this time, visits to the dentist or orthodontist will need to be carried out every four to six weeks for adjustments.
How Much Do Dental Braces Cost?
Free orthodontic treatment is available on the NHS for children up to the age of 18, or students up to the age of 19 as long as there is a clinical need. If, however, a dentist or orthodontic believes that the need is only cosmetic then free treatment will not be available. The cost of private treatment will vary according to the type of treatment needed and the kind of dental braces selected. A dentist or orthodontist will be able to estimate these costs before beginning treatment.
What Happens After Dental Braces?
When dental braces are removed, patients should continue to carry out a regular regime of tooth brushing, flossing and regular dental check ups. Throughout time, teeth may shift slightly but usually not to the point that further orthodontic treatment is needed. To combat this natural slide, patients may be advised to wear a retainer. These devices simply hold teeth in line while the mouth settles into these new positions. Retainers may be fixed or removable, and some patients may only need to wear them at night.
Dental braces are a specific type of orthodontic treatment that can leave teeth and jaws straight and healthy when used correctly. For more information about your specific case, visit your dentist today and ask about the availability of dental braces in your future.
You might also like...
@becca1978 hey how are how did your life go I n these 12 years I hope your fine and didn't pay for the braces
Luca
- 19-Jun-23 @ 1:48 PM
The pool is closed bc of aids
aza
- 19-Jun-23 @ 1:44 PM
pool is closed
gert
- 19-Jun-23 @ 1:44 PM
Its snowing outside, and we can't go out. :( :v ... . . . .. . . . . . . . . . . . .. . . . . . . .
fritzli
- 12-Jan-21 @ 2:35 PM
@Si - yes I've always hated my teeth and the way I look. But when I'm feeling genuinely confident I draw people to me - when I lack self-confidence then this reflects too. So, yes, you're right. Feeling good about yourself carries. It's the law of returns.
Jess00
- 10-Apr-18 @ 3:07 PM
Hi there, Just remember that having crooked teeth doesn't define your beauty. It's what's on the inside that counts. Your smile will light up a room, your personality will emanate through. Any 'wonky' teeth just create character. Having the perfect teeth does not automatically mean you have the perfect life. Brace yourself for the wonky road ahead! Si
@becca1978 You would think that the nhs would pay for them, but if they are not deemed 'crooked enough'. then it is understandable for you to pay for them.
lolageewr
- 27-Apr-11 @ 11:18 AM
My son has just been told by the dentist that he may need to wear braces but they say it's up to the ortho dept whether or not he has them (he needs them as his teeth are crooked) and if they say no I will have 2 pay for treatment myself, he is 13 so surely it gets payed by the NHS?
becca1978
- 6-Apr-11 @ 6:31 PM
I have nearly come to the end of my orthodontic treatment and I am so glad I took the opportunity to get braces because my teeth were like a bag of chips before! Now I have lovely straight teeth and I only need a retainer for a few months!
Lucy2011
- 28-Mar-11 @ 8:05 PM