Understanding Migraines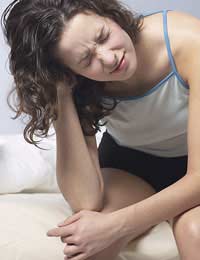 A migraine is a very specific type of headache which often begins occurring in the teen years. It has particular symptoms associated with it and tends to affect people who share a number of common traits. Scientists and doctors still don't understand exactly why migraines happen. Typical migraines last between four and 12 hours. There are ways to prevent migraines, and a couple of ways to treat them. If you believe you experience migraine headaches, don't hesitate to consult your GP.
Symptoms of Migraine Headaches
People who experience migraines will often come to recognise specific symptoms which warn them of a coming headache or accompany this kind of headache. Most migraine sufferers describe them as throbbing headaches, either on one or both sides of the head. Other symptoms commonly include:
Sensitivity to light (often wanting to escape to a dark space).
Sensitivity to sound (often seeking a quiet space).
Sensitivity to physical activity (even shaking the head can hurt).
Nausea and/or vomiting.
Prodrome (fatigue, hunger or anxiety before migraines occur).
Aura (affected sight, hearing, smell or taste prior to headache).
Sensations of tingling, dizziness, numbness or weakness (often in arms or legs).
Exhaustion following headache.
Traits of Individuals Affected by Migraines
People who are affected by migraines often share a number of traits. These individuals are often:
Women (possibly due to hormonal associations).
Relatives of others who experience migraines (possibly due to genetic link).
Able to trace their migraines back to childhood or their teen years.
Consistently tired and/or under stress.
Taking oral contraceptives (hormonal birth control pills).
Known to have a neurological condition.
Survivors of a head injury.
Preventing Migraine Headaches
Not every migraine sufferer can prevent headaches, but some can. After a while many migraine sufferers are able to determine if there are triggers which bring on their headaches. Common migraine triggers which can be avoided, thus preventing headaches, include:
Caffeine (having too much or too little, for example in fizzy drinks).
Chocolate (due to chemicals which can affect blood flow in the brain).
Food containing tyramine (cheeses, meats, yeast, coffee, bananas, eggs, oranges and more).
Foods containing sulfites (particularly preserved foods).
Foods containing MSG (a flavour enhancer).
Sudden, significant changes in stress levels, sleep patterns, hormones, pain relief medications.
Treating Migraine Headaches
When you suffer from migraines you have two main ways to treat them: abortive medicines and preventative medicines. Abortive medicines are those which you take when you experience a migraine, usually just after experiencing an aura or at the first signs of your headache. These medicines can be over the counter or by prescription. Preventative medicines are those which you take daily in order to keep migraines from occurring. People who take preventative medicines tend to have frequently occurring migraine, little relief from or side effects to abortive medicines, or migraines which include unusual or severe neurological symptoms.
Talking to Your GP About Migraines
If you believe you suffer from migraines, talk to your GP immediately. There is no need to suffer from crippling headaches when you can learn how to prevent them and/or find effective treatments. Always be sure to consult your GP if:
Your headache symptoms change, become more frequent or more intense.
You begin to experience neurological symptoms like dizziness, numbness or weakness.
Your headaches no longer respond to your chosen medication or type of treatment.
Your headaches begin to interfere with your life (school, social life, studying, etc).
Your headaches are the result of a head injury.
You suffer from confusion before or after your headaches.
Migraines affect a great many people and often begin during adolescence. If you suspect you suffer from migraines then recognising the symptoms of them and the traits of people commonly affected by them, understanding how to prevent them, how to treat them and when to talk to your GP about your headaches are all important to taking care of your health.
You might also like...