Coping With PMS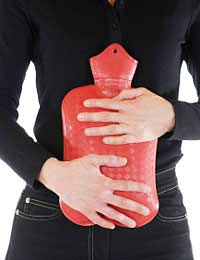 Premenstrual Syndrome (PMS) affects an estimated 75% of women in some way, so understanding this syndrome, its symptoms and how to alleviate them are important to understanding the health of much of the female population. Recognising common myths associated with PMS and when to seek help for this syndrome are also an important part of understanding how PMS can, and should not, affect a woman's life.
Understanding PMS
PMS tends to occur between 5 and 11 days before a woman's menstrual period. It is not known exactly why PMS occurs, or why the symptoms are different in different women, but some contributing factors have been identified. These include:
Hormonal changes associated with the different stages of the menstrual cycle.
Changes in the levels of serotonin, a chemical in the brain.
Depression, particularly if it is undiagnosed and therefore not being treated.
Stress and/or fatigue.
Poor nutrition, including low levels of necessary vitamins and minerals.
Symptoms of PMS
Each woman may experience PMS differently, though women tend to experience only a few symptoms at any given time. These symptoms can be broadly grouped as either emotional and behavioural or physical, and most women will recognise their own distinct patterns after a number of menstrual cycles. Common symptoms of PMS are, among others:
Increased feelings of tension and anxiety.
Depressed moods, feeling "blue" and/or crying easily or for no reason.
Mood swings.
Headaches.
Fatigue.
Changes to sleep patterns, including insomnia (being unable to sleep).
Food cravings and other changes to eating patterns.
Inability to concentrate.
Bloating, including weight gain from fluid retention.
Breast tenderness.
Acne.
Muscle pain, often in the lower back.
Alleviating PMS
Alleviating PMS symptoms will be specific to the types of symptoms a woman experiences. Many women find it helpful to:
Take over the counter pain relievers for muscle pain and headaches.
Avoid salt when experiencing bloating and/or water retention.
Make exercise a priority to increase blow flow and tire themselves out for better sleep.
Reduce caffeine intake to try to relieve anxiety, depression and/or mood swings.
Eat several healthy, smaller meals per day to level blood glucose and reduce cravings.
Use a heating pad to relieve muscle pain.
Take oral contraceptives to stabilise hormones during the menstrual cycle.
Use products containing salicylic acid to treat acne.
Test different styles of bras to reduce breast tenderness.
Avoid unnecessary tension or stress.
PMS Myths
Before PMS became better understood a number of myths began to surround it. Today some of these myths still exist though we know that they are untrue. For example, we know it is not true that PMS:
Is "all in your head" and doesn't actually exist.
Is due to external influences rather than bodily changes due to the menstrual cycle.
Is genetic, so all related women should experience the same symptoms in the same ways.
Renders women incapable, irrational or otherwise unable to be trusted with responsibilities.
Seeking Help for PMS
For many women PMS is a terrible time, one that occurs every single month without relief. If you have tried a number of ways to alleviate the symptoms of PMS but still find your life disrupted each month, don't hesitate to seek help from your GP. Be ready to describe how PMS affects your life, what you have already done to try to treat it, and your general medical history. Don't be surprised if your GP asks you to track your PMS for a number of months as this may be helpful in determining the best course of action for the future.
Coping with PMS is something that most women will grapple with at some time in their lives. Understanding what PMS is, what common symptoms are, how to alleviate symptoms, myths about PMS and how to seek help for this syndrome are all important to better ensuring women's health and comfort.
You might also like...