Living a Green Life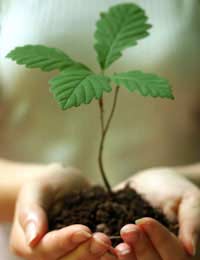 Kermit the Frog might not have found it easy being green, but for the eco-friendly there has never been a better time to live the green life. From toothpaste to travel, laundry detergent to light bulbs, clothing to cleaning products, environmentally friendly options abound. If you are concerned about the Earth and those that live on it, then read through these brilliant tips for living a gorgeous, green life!
Enjoy Being Environmentally Friendly
"Environmentally friendly" is a modern term that applies to any product, action or lifestyle that is designed to keep from harming the environment. Whether it be through recycling, conserving energy, composting, switching from chemical to natural cleaners, using sustainable building materials, preserving wildlife and natural areas or simply purchasing less and reusing more, there are hundreds of ways to live an eco-friendly life. Even just a few small changes in your everyday life can lead to great protection for our planet.
Eco-Friendly Options
Living a green life needn't require great expense or effort. Simple changes we can all take in order to help protect the environment include:
Investing in cotton or cloth grocery bags to avoid discarding plastic bags.
Switching off lights and appliances when we leave the room.
Turning off the taps as we brush our teeth, shave or wash the dishes.
Planting and tending a few outdoor trees to help clean the air.
Recycling as much of our plastic, glass and paper purchases as possible.
Searching for "natural" or "organic" food that was not treated by chemicals.
Using natural compost, rather than synthetic fertilizers in our gardens.
Growing our own herbs on the windowsill.
Nurturing a philodendron or two to help purify our indoor air.
Taking showers rather than baths.
Buying natural shampoos so we won't need to worry about how well the suds biodegrade.
Using rechargeable batteries in our small electric appliances and accessories.
Unplugging mobile phone chargers when they are not in use.
Purchasing glass, rather than plastic, food storage containers.
Finding specialty recycling facilities for large items like appliances and computers.
Asking our schools or workplaces to purchase recycled paper.
Driving less and carpooling or taking public transport more.
Living a green life is not only admirable, but easier than ever before. Have a scout around your local shops for eco-friendly options, and a look at the local notice boards to find like minded people. If there is no supportive community in your area, turn to the Internet to become a part of the global green community, and pat yourself on the back to taking steps towards a healthier, more aware existence.
You might also like...
This is too short make it longer!
NoStupid
- 14-Oct-22 @ 4:32 PM