Living With Older Parents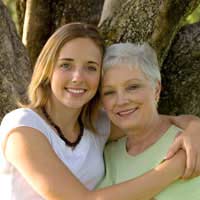 A few generations ago the odds would have been good that you and your best friends had parents roughly the same age, but those days are over. Today, parents' ages span several decades meaning that many more children and teenagers are living with parents who were aged 40 or over when they were born. Living with older parents brings it own unique blessings and obstacles, but when you get down to the things that really matter - love and support - your parents ages don't matter anyway.
Benefits of Living with Older Parents
While all parents are different, there can be some generalisations made across the disparate group now referred to as "older parents." When parents aged 40 or over decide to have children, they often do so:
With greater life experience to pass on to their offspring.
With a maturity that will help the family understand what is important.
Because they want to start a loving family.
Confident in a career, making their home lives more secure.
With a support system in place.
Having watched others parent for decades.
Obstacles of Living with Older Parents
There are some obstacles unique to families headed by older parents, though it must be remembered that all families face obstacles so it is not down to a parent's age that complications may occur. Some of the specific challenges faced by older parents and their children include:
Parents who have less energy than they may have had when they were younger.
Parents who are not as in touch with pop culture as younger parents.
Parents who find it harder to relate to younger parents of children the same age.
Parents who face retirement and less cash flow while still supporting dependent children.
Parents who face age-related medical conditions while still supporting dependent children.
Living with Any Parent
Regardless of their age, living with any parent requires a good deal of patience. Keeping your home calm and peaceful will benefit the entire family, so:
Agree to ground rules about behaviour, spending money, healthy habits, etc.
Discuss your concerns rather than shouting them at your parents.
Take responsibility for all of your actions and admit when you are wrong.
Keep your house, especially your room, clean and tidy.
Look after all of your clothes and possessions and keep them in good working order.
The old saying goes that you are as young as you feel, and this is often very true for older parents. If you are the teenager of older parents, rejoice in all that you can learn from them and the safe, secure environment they provide you with. If you face particular challenges due to your parents' ages, discuss them calmly and suggest logical compromises or solutions. Good luck!
You might also like...
My parents are older and sometimes I feel embarassed especially when my mom comes to school for parents evening and she is dull and grey and all my freinds mums are young. I hate the feeling.
Ellie
- 2-Sep-16 @ 2:18 PM