Parental Guidance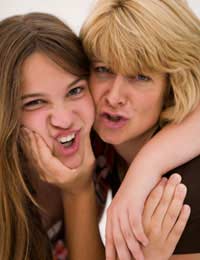 "Trust me, it's for the best."
This is the battle-cry of parents all over the world, and sometimes they are right. Unfortunately, sometimes they are not and it becomes your job to figure out if what is right in their mind is also right in yours.
Parents will always offer guidance because, let's face it, it's their job, and as a teenager it is your job to use this guidance as a factor in your decisions. Sometimes you may decide to follow their advice, and sometimes you may not, and this is fine. Just remember that as a young adult any decisions you make become your responsibility, so be ready to defend whatever it is you decide.
Listen to Life Experience
Simply by virtue of being older, your parents have a lot more life experience than you. Many times they will not have experienced the exact same situation as you are facing, but they have already learned similar lessons that they will try to pass on to you. Remember that they do this because they love you, and often because they want to spare you the pain that they had to suffer. Common themes that all parents will have experience with include:
Morality
Love
Friendship
Romantic relationships
Family relationships
Education
Work ethics
Achievement
Success
Losing/loss
Death
Grief
Guilt
Frustration/anxiety/stress
Follow Your Heart
Though they may have more life experience, there will always be situations in which you parents' guidance is just missing the mark. Maybe they don't realise your own hopes and dreams, maybe they are looking at a situation through their own biases, or maybe they are just worried that by taking a risk you will get hurt. Regardless of the reasons, there will be times that you need to follow your own heart, such as when:
Picking exam subjects.
Choosing a college or university.
Selecting a career path.
Falling in love.
Starting, and ending, friendships.
Make Your Own Decisions
When you are clear in your own mind about your goals, making a decision becomes easier. However, only a fool would totally ignore their parents' guidance. Remember that while the decision is ultimately yours, it is best to:
Show your parents respect and listen to their advice.
Look at every angle of your decision, including emotional, medical, financial and any implications for the future.
Have a discussion with your parents, showing them that you have thought through all of the angles.
Create a plan. If you are not going to take your parents' advice, they will often respond better if they know you have a plan of your own.
Making important decisions can be scary for a teenager, and most parents try to make it easier by offering guidance. Unfortunately when their guidance becomes insistent and/or widely misses the mark, it can just add to a teen's frustrations. If you have a big decision to make, listen to any parental guidance that is offered and think through all of your options seriously, but remember that in the end you are the one who will need to live with the consequences, so be confident in your decision. Good luck!
You might also like...
Parental Guidance By: Beth Morrisey MLIS - Updated: 8 Nov 2017 | comments*Discuss Tweet Parental Guidance parental Advice "Trust me, it's for the best." This is the battle-cry of parents all over the world, and sometimes they are right. Unfortunately, sometimes they are not and it becomes your job to figure out if what is right in their mind is also right in yours. Parents will always offer guidance because, let's face it, it's their job, and as a teenager it is your job to use this guidance as a factor in your decisions. Sometimes you may decide to follow their advice, and sometimes you may not, and this is fine. Just remember that as a young adult any decisions you make become your responsibility, so be ready to defend whatever it is you decide. Listen to Life Experience Simply by virtue of being older, your parents have a lot more life experience than you. Many times they will not have experienced the exact same situation as you are facing, but they have already learned similar lessons that they will try to pass on to you. Remember that they do this because they love you, and often because they want to spare you the pain that they had to suffer. Common themes that all parents will have experience with include: Morality Love Friendship Romantic relationships Family relationships Education Work ethics Achievement Success Losing/loss Death Grief Guilt Frustration/anxiety/stress Follow Your Heart Though they may have more life experience, there will always be situations in which you parents' guidance is just missing the mark. Maybe they don't realise your own hopes and dreams, maybe they are looking at a situation through their own biases, or maybe they are just worried that by taking a risk you will get hurt. Regardless of the reasons, there will be times that you need to follow your own heart, such as when: Picking exam subjects. Choosing a college or university. Selecting a career path. Falling in love. Starting, and ending, friendships. Make Your Own Decisions When you are clear in your own mind about your goals, making a decision becomes easier. However, only a fool would totally ignore their parents' guidance. Remember that while the decision is ultimately yours, it is best to: Show your parents respect and listen to their advice. Look at every angle of your decision, including emotional, medical, financial and any implications for the future. Have a discussion with your parents, showing them that you have thought through all of the angles. Create a plan. If you are not going to take your parents' advice, they will often respond better if they know you have a plan of your own. Making important decisions can be scary for a teenager, and most parents try to make it easier by offering guidance. Unfortunately when their guidance becomes insistent and/or widely misses the mark, it can just add to a teen's frustrations. If yo
Parental Guidance parental Advice "Trust me, it's for the best." This is the battle-cry of parents all over the world, and sometimes they are right. Unfortunately, sometimes they are not and it becomes your job to figure out if what is right in their mind is also right in yours. Parents will always offer guidance because, let's face it, it's their job, and as a teenager it is your job to use this guidance as a factor in your decisions. Sometimes you may decide to follow their advice, and sometimes you may not, and this is fine. Just remember that as a young adult any decisions you make become your responsibility, so be ready to defend whatever it is you decide. Listen to Life Experience Simply by virtue of being older, your parents have a lot more life experience than you. Many times they will not have experienced the exact same situation as you are facing, but they have already learned similar lessons that they will try to pass on to you. Remember that they do this because they love you, and often because they want to spare you the pain that they had to suffer. Common themes that all parents will have experience with include: Morality Love Friendship Romantic relationships Family relationships Education Work ethics Achievement Success Losing/loss Death Grief Guilt Frustration/anxiety/stress Follow Your Heart Though they may have more life experience, there will always be situations in which you parents' guidance is just missing the mark. Maybe they don't realise your own hopes and dreams, maybe they are looking at a situation through their own biases, or maybe they are just worried that by taking a risk you will get hurt. Regardless of the reasons, there will be times that you need to follow your own heart, such as when: Picking exam subjects. Choosing a college or university. Selecting a career path. Falling in love. Starting, and ending, friendships. Make Your Own Decisions When you are clear in your own mind about your goals, making a decision becomes easier. However, only a fool would totally ignore their parents' guidance. Remember that while the decision is ultimately yours, it is best to: Show your parents respect and listen to their advice. Look at every angle of your decision, including emotional, medical, financial and any implications for the future. Have a discussion with your parents, showing them that you have thought through all of the angles. Create a plan. If you are not going to take your parents' advice, they will often respond better if they know you have a plan of your own. Making important decisions can be scary for a teenager, and most parents try to make it easier by offering guidance. Unfortunately when their guidance becomes insistent and/or widely misses the mark, it can just add to a teen's frustrations. If you have a big decision to make, listen to any parental guidance that is offered and think through all of your op
;/g.fd
- 8-Nov-17 @ 11:59 AM