Surviving Embarrassing Parents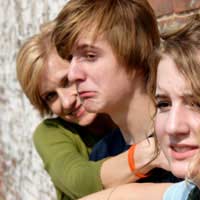 Bless them, they probably think they look hip and groovy and who wants to tell them any different? Unfortunately tolerating your parents' embarrassing ways at home is a little different than being forced to survive them in public. If you fear going out with your parents due to their jokes/pronouncements/clothing/dancing/eating or any other mortifying habit, read on for a few tips on surviving embarrassing parents.
Pick Your Battles
Undoubtedly there are a number of embarrassing things about your parents, but tackling them all at once will get you nowhere. Instead, prioritise which habit you'd wish your parents would stop immediately and make that the centre of your attention. For a little while keep track of when this habit happens so that you have "evidence" to draw on later, such as:
Too much wine, danced on table at Susie's birthday party.
Called me "honey bunch" in front of friends at cinema on Friday night.
Wore Bananarama t-shirt to gym with me on Sunday.
Pronounced best friend's lunch rubbish and made him eat tofu instead.
Talk It Out
Once you have a short diary of the behaviours that embarrass you the most, talk to your parents about them. Chances are that they will have no idea about how you are feeling, and their explanations might surprise you. Remember that a discussion will get you much farther than shouting at them, so:
Speak calmly and clearly, expressing your concerns.
Listen to their explanations.
Understand that they will probably not be willing to change underlying principles or convictions, no matter how embarrassing.
Be willing to discuss why you feel embarrassed.
Explain that you would just like the behaviour to stop, or the behaviour to stop at certain times.
Remind them that you love them, but you really can't take any more of their "fun"!
Rise Above It
Sometimes, no matter how earnestly you plead your case or how much your parents want to please you, their embarrassing behaviours will continue. There are some Mums you just can't stop from wiping smudges away with their own spit, and some Dads you just can't get out of socks and sandals. There is hope though, as many teens find that:
Not answering their parents when they are embarrassing helps to calm them down.
Just agreeing with adamant parents will help them change topics more quickly.
Shopping with their parents will steer them away from the worst of the clothes.
Encouraging parents to donate embarrassing items helps clear them out of the house.
Avoiding situations that you know will lead to your own embarrassment is for the best.
Telling their friends about their parents' embarrassing ways prepares everyone for the eventual embarrassment.
The sad truth is that even the coolest parents on your block have some hidden habits that embarrass their children. Even sadder is that undoubtedly there are habits of your own that embarrass your parents. Remember that no one is perfect, so if your parents flaws are only embarrassing you really should be thanking your lucky stars that no one has ever literally died of embarrassment. If it seems like you may be the first, talk with your parents about their behaviours and try to hammer out a compromise that you can all live with. Good luck!
You might also like...
@Phil - just tell your mum that it bothers you. Or you could just think that's it actually quite a nice thing to do and stick up for your mum :)
Charley
- 2-Mar-18 @ 3:21 PM
My parents put Buddha's and naked angels around the house, and it bothers me everyday and my friends give me a hard time about it and my mum will stress out if I talk to her about it. WHAT CAN I DO!
Phil
- 27-Feb-18 @ 5:36 PM