Defeating Peer Pressure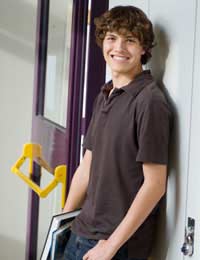 Peer pressure can sneak up on you in many shapes and sizes. Putting off your homework to go to a friend's party, ditching sports practice to go shopping and letting your crush copy from your assignments are all types of things that teens give into in the face of peer pressure. But then again, so are buckling down to study, handing over the car keys if you have been drinking and circling around when a friend is in trouble.
Peer pressure can be both positive and negative, but for the most part when we hear about peer pressure it is the harmful variety. Peer pressure can put you at risk, make you compromise your morals and deter you from your future plans. Rather than let peer pressure sway you, learn how to defeat negative peer pressure and get on with your own life!
Exploring Peer Pressure
"Peer pressure" is a fairly self-explanatory term. It is literally the pressure that we feel from our peers to do certain things, dress certain ways, use certain words, eat certain foods, and on and on. No matter how old you are there will always be peer pressure to conform to certain norms, but it can be particularly acute in secondary school, when standing out from the crowd can take a lot of courage. Though peer pressure can sometimes result in positive outcomes, like the pressure from friends to show off your beautiful voice in the school musical, usually the term "peer pressure" is used to describe a negative influence.
Giving In to Peer Pressure
It is only realistic to assume that everyone will give in to peer pressure at some time in their lives. Unfortunately there are certain characteristics that can mark out someone likely to give into negative and risky peer pressure.
Those especially susceptible to the influence of peer pressure usually display:
Low self-esteem
Little or no self-confidence
Few successful friendships
Isolation from their wider peer group, such as classmates
Loneliness
Depression
Common Activities Associated with Peer Pressure
There are certain stereotypical activities that your peers may pressure you to engage in. These activities often include:
Putting off school work to party or have fun
Sneaking out of the house
Allowing others to cheat by copying your assignments or exams
Giving up organised extracurricular activities such as music or sports
Drinking
Smoking
Exploring drugs
Shoplifting
Having sex before you are ready
Teasing or bullying others
Defeating Peer Pressure
Defeating peer pressure takes guts, and it is not the type of thing for which you can specifically prepare. Instead, you need to cultivate the self-confidence, self-acceptance and self-love that will allow you to remain comfortable with your ideals and interests even in the face of pressure from others.
On a more practical level, it can be helpful to:
Join clubs or groups whose members believe in the same things as you.
Cultivate friendships with people who do not pressure you.
Distance yourself from bullies or critical friends or classmates.
Think about where you stand on issues such as those listed above, so if confronted with them you can quickly give your opinions rather than give in to pressure.
Discuss your opinions and future plans with your parents, so you can make sure that you have their support.
Have a few excuses ready for why you can't participate in whatever activity you are being pressured about.
Blame your homework, your parents, even your baby sister if you have to, but don't give in to something you are not comfortable with.
Unfortunately, dealing with peer pressure seems to be part and parcel of being a teenager. While it is something you should be ready for, it is not something you should worry about giving in to. Know yourself, love yourself and be yourself. And don't let anyone tell you differently!
You might also like...