FAQ About Sexism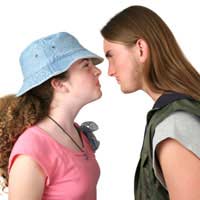 Sexism is a word that you might be familiar with, but few people fully understand. Rather than hide your ignorance about this important issue, read on for answers to frequently asked questions about sexism.
What Is Sexism?
Sexism is a type of prejudice or discrimination based on gender. For the most part this term is particularly employed to refer to discrimination against females, though it is possible for males to be discriminated against due to their gender as well. People who actively engage in this type of discrimination are called sexists.
What Is a Gender?
Gender is a classification based upon an individual's sex, male (men and boys) and female (women and girls).
Why Is Sexism Bad?
Sexists sometimes hide behind "scientific evidence" that one gender is weaker, smaller, less successful at certain jobs and less intelligent in certain subjects than the other. This means that based solely on someone's gender, sexists make assumptions about their abilities without giving them a chance to prove otherwise. Clearly this is neither fair nor just, and is a lazy and ignorant way to treat people.
How Does Sexism Manifest Itself?
Sexism manifests itself in a number of ways, including:
The use of offensive terms and language.
Making prejudiced statements about the other gender or members of the other gender.
Paying someone less or promoting them less often based on their gender.
Believing that you are better than someone of the other gender.
Any discrimination based solely on someone's gender.
What Can We Do to Fight Sexism?
The more people who courageously and vocally stand up against sexism, the less likely it will be that it takes hold in any given community. To fight sexism in your life:
Get to know everyone around you and make friends based on personality, not gender.
Do not tolerate sexist jokes or conversation in your presence. Walk away if you have to, or simply tell the offender "I can't believe you just said that."
Refuse to support shops or companies that you feel are sexist.
Organise an anti-sexism campaign in your neighbourhood.
What Can I Do if I am the Victim of Sexism?
Remaining silent in the face of discrimination is the worst thing you can do if you are a victim, or if you witness a discriminatory event. Be sure to:
Confront the offender, but do not put yourself in physical danger.
Document the incident, including witnesses.
Investigate the anti-sexism policies of your school, workplace, and county council.
Find out the procedure for reporting sexism that occurs in these venues.
Alert the police if laws are broken or you feel physically endangered.
Sexism is a scourge of modern society, and unfortunately the wheels of change are moving very slowly on this issue. Don't be afraid to stand up and speak out against sexism, and urge your family and friends to do the same. Remember, remaining silent in the face of sexism is no better than being a sexist yourself.
You might also like...