The Best Way to Keep Fit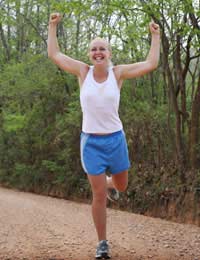 It's easy to become lazy about fitness. A pile up of schoolwork, a few sports or club engagements and a busy social calendar will all conspire to keep you locked in lethargy, moving at a snail's pace and grazing on whatever food you can find.
The only way to shake yourself free of these chains is to commit to a newer, fitter you, and the only way to achieve this goal is with consistent exercise and a healthy diet. These may sound like just a few more chores to add to your already packed schedule, but as you discover your favourite activities and recipes, you'll feel nothing but faster, sleeker and smarter!
Work Up a Sweat
There are no shortcuts to getting fit, and in fact it will take working up a sweat at least three times per week for you to feel healthier and notice an increase in your energy levels and enthusiasm, and possibly a decrease in your weight and waistline. Accepted advice is that everyone should be exercising for at least 30 minutes three times per week, but if you could make this for 45 minutes four times per week you'll be flying towards a new you.
Remember:
Stop smoking, drinking or using drugs immediately. All of these actions wreak havoc on your body and stand in the way of your fitness goals.
Exercise should involve an aerobic or cardiovascular workout, weight training and stretching to avoid injuries and increase flexibility.
Keeping an exercise journal will give you motivation and help you track your progress.
Joining a health club, leisure centre or gym will allow you to become a part of a supportive community and explore options and classes.
An exercise or fitness video is a great way to try new activities in the privacy of your own home.
Building up a home gym with free weights and a skipping rope will help you exercise even when it is too cold or rainy to go outside.
You'll be more likely to continue exercising if you like the activity. Take into account your personality and the reason why you are exercising when selecting your activities. For example:

If you are outgoing and looking for new friends, consider a team sport.
If you are serious about relaxing, check out yoga classes.
If you are goal orientated and competitive, think about running or swimming.

Aim for at least eight hours of sleep per night to help your body recover from all of this new activity.
Whip Up Something Delicious and Nutritious
Healthy eating isn't an option when trying to get fit, it's a requirement. A balanced diet will deliver all of the nutrients you need to stay healthy, and will naturally cut out the excess fats, sugars and salts that can sabotage your fitness goals. According to the British Nutrition Foundation, you should strive for:
A third of your daily food intake to be bread, cereal or potatoes.
Eating 5 different fruits and vegetables per day.
Consuming 2 - 3 servings of milk or dairy per day.
Sensible portions of meat, fish or alternatives, including 2 servings of fish per week.
A serving or less of fatty or sugary foods per day, including sugary drinks.
Drinking at least six glasses of water per day, and more when you are active.
Another way to help you enjoy a balanced diet is to try to "eat the rainbow." Choose fresh rather than pre-packaged foods, and make sure that you are eating a variety of colours. This will help you naturally consume the variety of vitamins and minerals your diet needs.
Getting, and staying, fit is a lifetime commitment. Though your new exercise and eating habits will soon become second nature, it is important to pay attention to your lifestyle to make sure that you don't slide back into old habits. Get fit, have fun and be well!
You might also like...
Very helpful advice and a well organised and interesting plan.
egg
- 24-Mar-11 @ 8:47 PM