Accepting Religious Diversity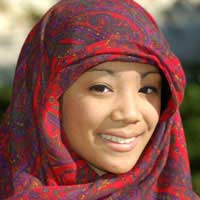 In our small world, each one of us can be in contact with different cultures every hour of the day. A large part of culture is religion, and we are lucky enough to be able to explore the rich religious diversity in the world. In the UK alone the 2001 Census identified over 170 religions present. For some people accepting this religious diversity can be tough, but living in a world full of intolerance will be even tougher. Following these tips toward accepting religious diversity should make it a better, brighter world for everyone.
Know the Facts
A lot of people have trouble accepting religious diversity because they don't know the facts. Rumours abound about every religion, and because religions are based on faith rather than cold, hard proof these rumours can easily distort the actual beliefs. In order to accept religious diversity in our world it is important that we all come to understand the basic tenets of each faith. For more information on particular religions, borrow books from your local library, speak with local religious leaders and explore the Internet for official websites. Don't let ignorance fool you.
Cultivate Diverse Relationships
Sometimes the simplest way to accept religious diversity is to accept friends from a variety of religious backgrounds. Putting a human face on an abstract religion can help you become comfortable with those beliefs and practices. If you have friends that practice other faiths, chances are high that you can observe their lifestyles and more fully explore their religions. It also means you'll probably be lucky enough to score an invitation to religious celebrations that will introduce you to fantastic new foods, songs, prayers and more.
Condemn Discrimination
Unfortunately, religious discrimination is still alive and well in the UK. For all of us to truly benefit from religious diversity, we need to remain militant about condemning this type of discrimination. If someone tells a discriminatory joke in your presence, makes a prejudiced statement, tries to persuade you to believe stereotypical images or otherwise acts inappropriately, have the courage to tell them they are wrong. Don't feel that you need to fight every battle you encounter, but don't repress your instincts either. Draw on the facts you have learned and the relationships you have invested in and you will know that you are correct.
Spread Your Knowledge
When you become confident enough to challenge religious discrimination you should also be confident enough to spread what you have learned about other religions. This doesn't mean you should go door to door trying to convince your neighbours to accept religious diversity, but it does mean that you can look for teaching opportunities for family and friends. For example, on Diwali you can explain the significance of this Hindu holiday and on Rosh Hashanah you can organise a small celebration of the Jewish New Year. Spreading this knowledge even within your own household will help others accept religious diversity, and you'll be surprised at how they will pass this information along as well.
Accepting religious diversity takes courage if you have never explored other religions, particularly if you have previously accepted distorted views on the subject. Learning as much as you can about other religions, and getting to know members of these faiths, will go a long way towards better understanding and accepting religious diversity. When you feel comfortable, transmitting this new knowledge to others close to you will also help spread the tolerance. Good luck!
You might also like...