Learning to Drive in the UK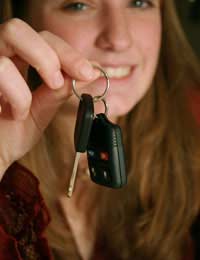 Learning to drive is an exciting, frightening and often confusing endeavour. On the one hand you finally get your independence and the ability to go further than a mile from your front door, but on the other you've just entered the world of thousands of pounds worth of machinery, issues like speed limits and drink driving, and the very scary ability to hurt or even kill others. The important thing about learning to drive is that you do just that - actually learn the rules of the road and road safety. To do this, follow these tips for learning to drive in the UK.
Get Your Provisional License
Before you can become a licensed driver in the UK you must hold a provisional license. This provisional license can be obtained from the Driver and Vehicle Licensing Agency by way of the application form (D1 form) which you can get at your local post office. When you are in possession of a valid provisional license you can then book your theory test.
Take Your Theory Test
Taking the driving theory test is the next step toward learning to drive and becoming a fully licensed driver in the UK. These tests are administered only to people aged 17 or older, and at official testing centres. There are over 800 questions that can come up on the theory test, but there will only be 35 on the test that you take. You will have 40 minutes to complete the test, and must answer 30 questions correctly to pass it. You will receive your results before you leave the testing centre. This test will be divided into two parts - multiple choice questions and video clips on hazard perceptions.
When you book your theory test (online, by phone or by post), the Driving Standards Agency will send you a CD ROM that explains the theory test. Official preparation materials are also available at book stores.
Practice Makes Perfect
Once you hold your provisional license and pass your theory test, practice your driving with a fully licensed driver at every chance you get. Practice driving on back roads and main roads, practice driving at different speeds and in different weather, practice slowing, yielding and stopping, and practice parking. Practice everything you will be tested on during your practical test, and have the licensed driver you are with ask you questions about what you are doing and why.
Consider investing in professional driving lessons to further prepare yourself for the practical driving test you will need to take in order to obtain your full license.
Take the Practical Test
The practical test is your chance to prove to your examiner that you can drive safely, and that you know the Highway Code and can apply it in your own driving. During this 40 minute test you will be examined on your general driving, as well as two reversing exercises and possibly an emergency stop. Don't worry, you needn't drive absolutely perfectly during a driving test and in fact can make up to 15 mistakes without failing.
During your practical test you will also be asked one "show me" and one "tell me" question about your car and driving. Answering one or both of these questions incorrectly will result in one mistake counted against you.
When you are ready for this final step, book your practical test online, by phone or by post and indicate your preferred test date.
You might also like...